Catalan president calls on Rajoy to 'immediately' authorize nomination of ministers
Torra informs Spanish counterpart of legal advice demanding "absent" officials be allowed to take up their posts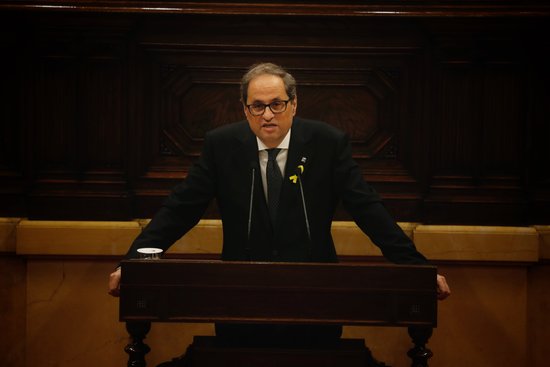 Catalan president Quim Torra has urged his Spanish counterpart Mariano Rajoy to "immediately" authorize his nominations for a new government following legal advice. Torra wrote to Rajoy on Friday to inform him of the conclusions of the Legal Assessment Committee, the body that provides legal advice to the Catalan authorities, after the Spanish president blocked Torra's attempt to reinstate deposed ministers in his cabinet.
The committee concluded that the Spanish government is obliged to authorize the nominations - the first step of which is allowing them to be published in the Catalan government's gazette, currently under the control of Madrid through Article 155. The committe also stated that the Spanish executive must ensure that the "absent" ministers - those officials nominated to the cabinet currently either in jail or abroad - be allowed to take up their government posts. In his letter, Torra called on Rajoy to act "urgently", so that direct rule can be lifted and "institutional normality" be restored in Catalonia.
In his letter, Torra explains that he sought legal advice after the Spanish government failed to respond to earlier demands that it authorize the nominations. The Catalan president explains that the committee concludes that no limits must be placed on the "political rights" of the nominated ministers, and that nothing should "prevent them from taking up their posts." In a later statement, the Catalan authorities confirmed that they would seek to pursue legal action against Rajoy should he fail to heed the committee's advice.