Catalan parliament pays retired public servants over €1.7m annually
Some employees get full salary of up to €150,000 per year, according to ARA newspaper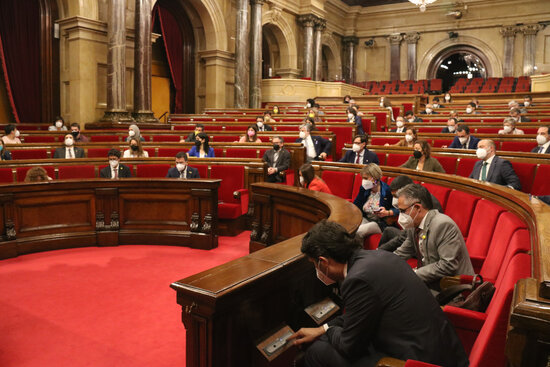 The Catalan parliament pays former public servants over the age of 60 over €1.7 million annually. In total, 21 employees receive their full salary after having worked in the Catalan chamber for more than 15 years, according to a report on Monday by ARA, a Catalan newspaper.
Since 2008, the Parliament has a so-called "age license" that allows workers over 60 who have more than 15 years of experience to retire early and to get their full salary for five years without having to work.
There are several former secretaries, ARA reported, who earn more than €10,000 per month, while those with lower salaries, such as attendants, receive €3,800 per month. This is the equivalent of €56,000 to €150,000 gross per year.
In an interview with Catalan public broadcaster TV3, Parliament speaker Laura Borràs acknowledged the situation but said that everything had already been "solved."
The newspaper filed a transparency law information request to obtain the information from Parliament.
Since then, the chamber has changed the "age license" conditions, and from January 1, 2022, all those who apply for it will either carry on working fewer hours or stop working altogether and earn less money.
The opposition has already sounded the alarm after the information was revealed. Leader of anti-austerity En Comú Podem in the Spanish Congress, Aina Vidal, described the payments as a "scandalous situation" and requested officials to stop them.
Catalan president Pere Aragonès assured that the government has "no cases" of people earning their salaries without working. The President defended the "separation of powers" in Catalonia, adding that it is the "parliament bureau and spokesperson who need to decide."
Meanwhile, the current business minister and former Parliament spokesperson, Roger Torrent, did not comment on the matter as he claimed not to have had time the to read the news properly.
Ernest Benach was the Parliament spokesperson when the "age license" came into effect in 2008. On Monday, he warned that "context has extremely changed" and those who approved the measure 14 years ago would probably not make the same decision.
The leader of the People's Party in Catalonia, Alejandro Fernández, considered the explanation by speaker Borràs "insufficient" and will request information that proves that the "anomaly" has been solved.