Catalan government to force fashion brands to offer wider range of sizes
Major clothing retailers will also have to report how sizes relate to body measurements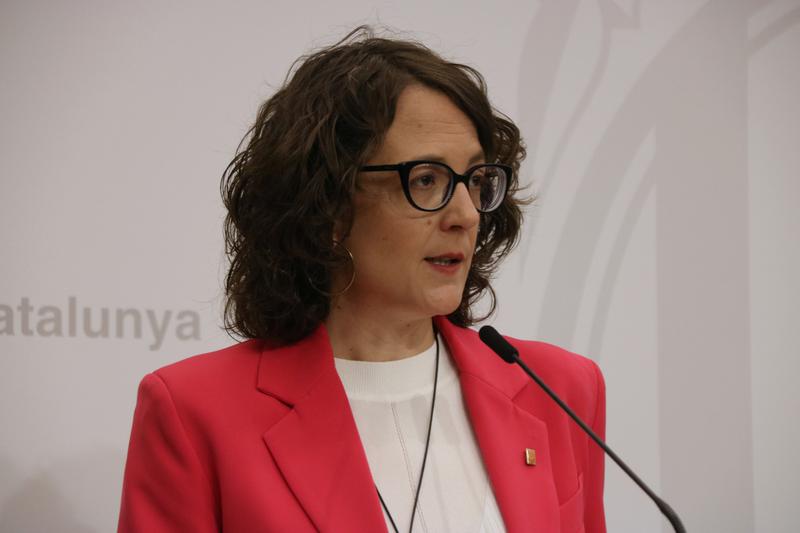 The Catalan government will force major clothing brands to offer a wider range of sizes and inform customers how their clothes sizes equate to actual body measurements.
It will do so via a new Consumer Code that will be approved in the coming months.
This is one of 60 measures included in the equality ministry's new €12.5m action plan to combat aesthetic pressure, promoted in conjunction with the Catalan Institute for Women.
Other measures include a code of best practice to promote body diversity, an agreement with the advertising sector for transparency on images that have been retouched, recommendations on uniforms and a pilot test to undertake hiring processes with blind CVs, i.e., without photos from applicants.
Symbolic violence against women
The action plan to combat aesthetic pressure aims to give a "coordinated and transversal response to this form of symbolic violence against women," according to Tània Verge, minister of equality and feminism.
"What we are introducing is a plan that is pioneering on an international level, a plan that aims to attack the causes, but also the consequences, of aesthetic pressure," Verge said on Monday at an event to present the plan.
It contains around sixty actions in areas such as fashion, the audiovisual sector, sport and the world of work, and will be implemented in a coordinated manner via various government departments, Verge explained.
It will also incorporate actions to raise awareness and support people who report discrimination based on physical appearance, "either through the Office of Equal Treatment and Non-Discrimination or through other mechanisms."
The department has worked on the plan with various groups, activists and experts in the field. It will be approved in April and is expected to be implemented gradually between then and 2026.
Sanctions for clothes stores
The president of the Catalan Institute for Women, Meritxell Benedí, laid out some of the plan's main measures. Among them, one that will affect the main fashion brands operating in Catalonia stands out.
"For clothes stores, the imminent reform of the Consumer Code will mean two new obligations, that large multinationals must have a wider range of sizes and that all stores must report how their system of sizes corresponds with body measurements," Benedí said.
And while the equality minister indicated that the aim of the initiative "is not to penalize," it would allow the establishment of "specific obligations for companies that could eventually result in sanctions."
The government, therefore, would have the ability to sanction non-compliance, Verge said, drawing parallels with the case of Vueling cabin crew, which she described as an example of physical discrimination can also be penalized. It was revealed last week that Catalonia's labor inspection authorities intend to fine Vueling €30,000 for obliging its female flight attendants to wear makeup and high heels.
The plan also proposes drawing up an agreement with the main fashion brands to promote body neutrality and awareness measures at the main fashion events in Catalonia.
"Within the framework of 080 Barcelona Fashion, actions promoting body neutrality and disability will be carried out, while body diversity will also be promoted at Barcelona Bridal Fashion Week," Baladí said.
In the same vein, she explained that the plan will involve an agreement with the media and advertisers to adopt criteria for equality in advertising, identifying the use of images or parts of the body that are manipulated or retouched. In addition, a code of good practices will be drawn up to promote body diversity with the aim of eliminating stereotypical representations.
Body diversity will also be incorporated into the programming of the publicly funded Catalan Audiovisual Media Corporation (CCMA) and other public and private broadcasters.
Eating disorders
The government will launch campaigns explaining dieting, diet culture and healthy eating, with the aim of preventing eating disorders and fighting fatphobia.
The guide for families of people affected by eating disorders will also be updated and information for teenagers and young people will be available on adolescents.cat. In addition, there will be surveys aimed especially at children and adolescents, "to find out the impact of aesthetic pressure on mental health and life satisfaction in these age groups."
Regulation of uniforms and blind CVs
Baladí explained that the plan will also allow actions to be implemented to combat the feminization of certain professions and the imposition of certain sexualized clothing.
The government proposes making recommendations for the regulation of uniforms that avoid aesthetic pressure and respect body diversity.
A pilot program will be developed to promote hiring processes with blind CVs, without photos, to avoid discrimination based on physical appearance, or gender, age, race or disability.
Sport and education
Recommendations will also be made to sports organizations and, through the Union of Sports Federations of Catalonia (UFEC), the government plans to create a study of regulations that affect body image and clothing.
In education, content related to aesthetic pressure and body neutrality will be included in the curriculum. In addition, the physical education curriculum in compulsory education will be revised.
A growing problem
According to several studies commissioned by the Ministry of Equality and Feminism, the problem of aesthetic pressure has an effect on the mental and physical health of a significant part of Catalan society.
Some 60% of young women aged between 18 and 24 and between 40% and 50% of women aged up to 65 feel dissatisfied with their bodies, according to the government's omnibus survey (2022).
According to a survey carried out by the Catalan Association against Anorexia and Bulimia of teenagers between 12 and 16 years old from schools all over the country in the 2020-2021 academic year, 47% of girls aged 12 to 16 want to lose weight.
The survey also showed that between the ages of 8 and 11, 15% of girls had already expressed dissatisfaction with their bodies. According to the Catalan Health Survey, 5% of girls in Catalonia are affected by an eating disorder.