Catalan government crisis as coalition partners disagree on who should attend upcoming talks with Spain
President Aragonès has only confirmed presence of members of his party for now for first meeting after JxCat proposes politicians not in cabinet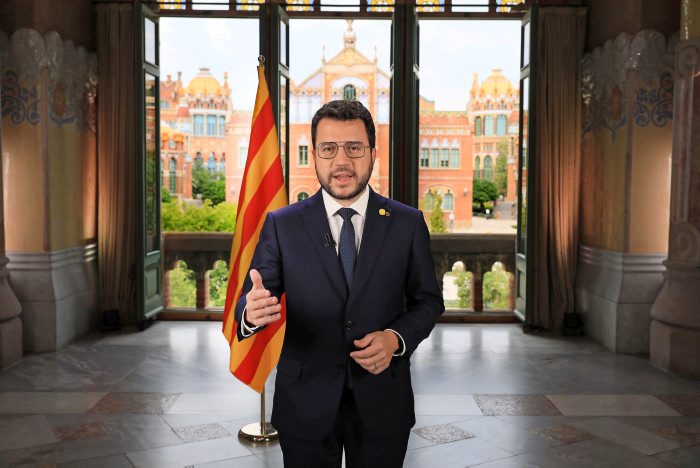 The Catalan government is facing the first major crisis between pro-independence coalition partners Esquerra and Junts barely four months after taking office in May.
Ahead of the beginning of the talks between Catalonia and Spain, due to begin in Barcelona on Wednesday, the coalition partners clashed over who should represent the Catalan side on Tuesday.
President Pere Aragonès, of Esquerra, said after the weekly cabinet meeting that he will participate in the first round of talks, along with the presidency minister, Laura Vilagrà, and the business minister, Roger Torrent, both also members of his party.
This comes after junior partner Junts proposed the names of party members who are not in the cabinet, which Aragonès rejected.
According to the Catalan president, he had always stated that people "at the maximum institutional level" should participate in the talks on the independence issue beginning on Wednesday and, according to him, that means ministers.
Yet, Junts' secretary-general, pardoned leader Jordi Sànchez, recalled that their government agreement, signed on May 17, reads: "The Catalan delegation in the negotiation process will be appointed through consensus and named by the government, with the aim of representing the plurality of the pro-independence project, and aims to represent and defend the large consensuses in favor of self-determination and amnesty by an 80% majority of the people."
On Tuesday morning, Junts sought to appoint vice president Jordi Puigneró, party secretary-general Jordi Sànchez, party vice president Jordi Turull, and congressional spokesperson Míriam Nogueras. All but Puigneró are not current cabinet members.
Aragonès said he had learned of Junts' proposed attendees through the media, and no consensus was found during the weekly cabinet meeting between both parties held shortly afterward.
In the subsequent press conference, the president said he had decided to only name Esquerra members, something that Junts accepted. Puigneró has declined to participate, stating that he or other Junts members might join at a later stage instead.
Shortly after Aragonès' move, the secretary general of Junts, Jordi Sànchez, said that they are sure Spain has vetoed their members, and regretted that the Catalan president accepted their veto.
"We are sorry of this new controversy, but this is not with President Aragonès or the rest of the cabinet, but with the lack of interest of Spain's government to tackle this negotiation and find a way out of the conflict."
The first round of talks will be preceded by a meeting between the Catalan and Spanish presidents, Pere Aragonès and Pedro Sánchez.