Catalan and Spanish parties urge Spanish PM to explain Catalangate in Congress
Washington Post calls case a "flagrant" violation of civil liberties that deserves "condemnation"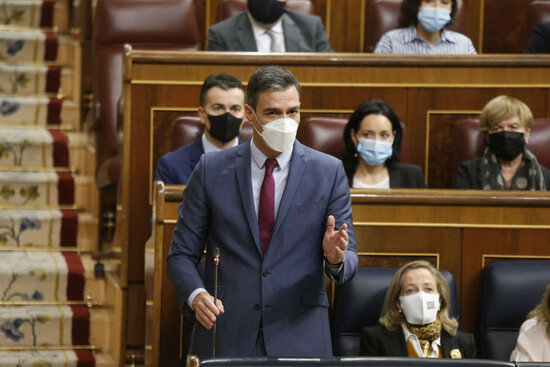 Several Spanish and Catalan political parties have urged for the Spanish PM, Pedro Sánchez, to explain Catalangate in Congress. All the pro-independence parties with representatives in the chamber: ERC, JxCAT, PDeCAT, and CUP, as well as Spaniard forces: EH Bildu, BNG, Más País, and Compromís, have registered several petitions.
The different forces want the Spanish leader to explain to lawmakers the case of alleged espionage to more than 60 Catalan pro-independence figures.
Those who voted in favor of Sánchez's presidency bid, among them Esquerra Republicana de Catalunya, also urge for the Interior minister, Fernando Grande-Marlaska, Defense minister Margarita Robles, and Spanish intelligence service (CNI) director, Paz Esteban, to explain the case.
The reason behind these calls is for them to explain "if the executive had any knowledge and what measures will be taken after Pegasus and Candiru spyware had been used against politicians, activists, lawyers, journalists, entities, and their familiars," the petitions read.
Even Spanish vice president, Yolanda Díaz, from the junior coalition partner Podemos, said that the case "was of enormous gravity" and that the executive is working on it.
"There should be no fear in giving any explanations," she added referring to the possible case of espionage to several figures, after their phones had been infected with spyware. Díaz responded to Catalan president Pere Aragonès, and one of the victims of Catalangate, after he demanded answers while visiting Madrid.
The vice president said that dialogue "must be as stronger as ever" during crucial times.
"Flagrant" violation, Washington Post says
One of the most renowned newspapers in the United States, The Washington Post, has considered Catalangate a "flagrant" violation of civil liberties.
In an opinion article published on Thursday, the newspaper calls for "condemnation" after these violations occurred. Especially "when [democracies] use spyware with judicial approval or legal justification, as they are still doing damage by lending legitimacy and financial support to a product exported far and wide for all kinds of malfeasance," the article reads.
"Democracies shouldn't surrender to a future of limitless surveillance; they should fight for a better one," the Post adds at the end.
This newspaper article also remembers former associate Jamal Kashoggi, a journalist from Saudi Arabia murdered in Istanbul's Saudi Arabian embassy.
In his case, Pegasus was used to infect some of his close associates' phones.
Congress to check for infected devices
The Spanish congress has also encouraged all those lawmakers that believe they are victims of espionage to get in touch with the chamber's IT department.
As first published by the Catalan RAC1 radio broadcaster, and later confirmed by the Catalan News Agency (ACN), sources from the chamber believe it will not be up to the IT department to identify Pegasus spyware and they suggest going to the police to disinfect their phones.
According to the investigation released on Monday by Citizen Lab, there have been five members of Congress infected with spyware.
What is Catalangate?
Catalangate is the name that Citizen Lab, a University of Toronto-based research group that reports on high-tech human rights abuses gave its investigation into the espionage of several Catalan pro-independence politicians, activists, and their close associates.
It is "the largest forensically documented cluster of such attacks and infections on record," the New Yorker published on Monday.
Phones were infected using spyware programs Pegasus and Candiru. Pegasus, from Israeli company NSO Group, is known internationally for its previous infections of renowned people, such as murdered Saudi Arabian journalist Jamal Khashoggi, or members of Rwanda's opposition party.