Catalan and Colombian presidents postpone meeting to future occasions
Pere Aragonès to continue South American trip after "violent" incidents in Colombia required Gustavo Petro's attention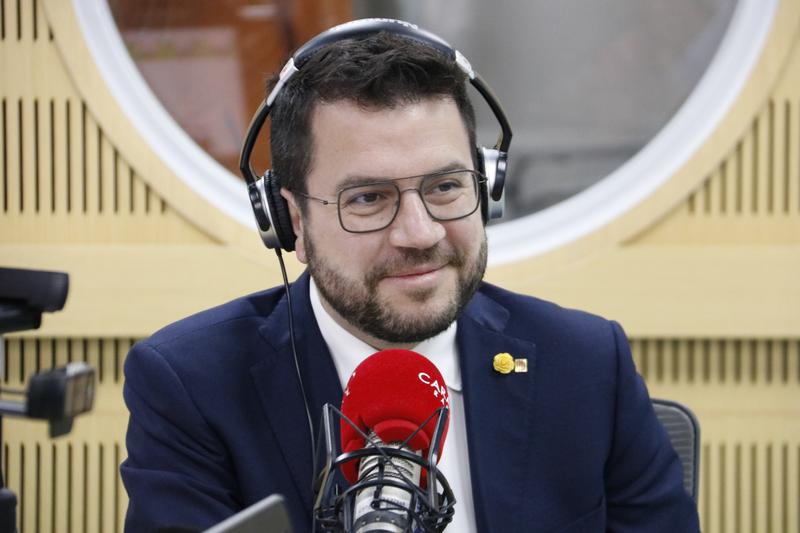 The Catalan president, Pere Aragonès, was expecting a meeting with Colombian president Gustavo Petro on Monday afternoon local time during a stop on his Latin American tour. However, both leaders have postponed the meeting to future occasions.
The session was first delayed on Monday night due to a situation of "violence and public order" in the Cauca department, southern Colombia, that required Petro's attention.
These "internal circumstances" made it "impossible" to schedule another meeting before Aragonès flies to Argentina on Wednesday to continue his trip.
Both leaders agreed on meeting in the future, either during another trip by Aragonès to South America or whenever Petro visits Europe.
Sources told the Catalan News Agency that they were aiming to tackle the bilateral relationships between both nations, as well as Catalan cooperation on Colombia, and the Latin American country's peace process.
Even though the meeting with the president was postponed and he and foreign minister Meritxell Serret waited for more than two hours in the Nariño Palace, the government's headquarters, Aragonès did meet with the foreign minister, Álvaro Leyva, and the finance minister, José Antonio Ocampo.
Hours before the meeting was fully postponed to future occasions, the Catalan government rejected blaming the delay on the Spanish embassy in Bogota as the relationship between both administrations is "of cordiality and is working fine these days," Patrícia Plaja, the cabinet spokesperson, said on Tuesday midday.
Meetings with local authorities
After trying to meet with the Colombian president, Pere Aragonès met some Catalan companies based in the country as well as other civil society group leaders.
During his tour, he has already praised Colombia's identification of victims of the armed conflict.
Aragonès, accompanied by foreign minister Meritxell Serret, will travel around South America until March 21 on a trip that will also lead them to Chile, Uruguay, and Argentina.
They will meet with former Uruguayan president Pepe Mujica (2009-2014) and the current vice president Beatriz Argimón, among others.
The trip will continue on to Argentina, where politicians will open a new governmental office in Buenos Aires to have representation in the continent.
The office will be a "symbol" highlighting the "move forward" taken by the government to improve their relations with South America, Meritxell Serret said before departing.
While visiting Buenos Aires, Aragonès and Serret will also sign a bilateral cooperation agreement between the Catalan government and the Buenos Aires regional government before meeting with Axel Kicillof, the regional governor.
Hours later, they will make an offering to the statue of Catalan president Lluís Companys located in Plaza Catalunya square, which was inaugurated in 2017.
The trip will end in Chile, where Aragonès will meet with the country's former president and United Nations High Commissioner for Human Rights between 2018 and 2022, Michelle Bachelet. She is also the laureate of the Joan Alsina Human Rights prize, awarded by Casa Amèrica cultural center.