President praises Colombia's identification of victims of armed conflict during South America trip
Pere Aragonès to meet with authorities in Uruguay, Colombia, Chile, and Argentina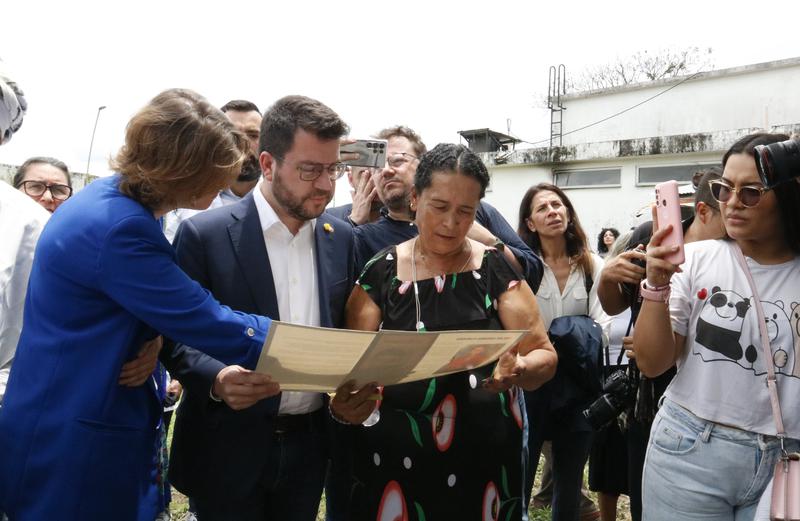 Catalan president Pere Aragonès praised the work done by the Colombian 'Unidad de Búsqueda de Personas Desaparecidas' missing persons unit (UBPD) during a trip in South America.
The president met with the UBPD in the Colombian town of Villavicencio. He expressed the utmost "Catalan admiration of their brave risk-taking to speak out for the essential demand for justice and memory" during a ceremony honoring the victims of the armed conflict in the municipality.
UBPD has been searching for missing people for the last few years, and the Catalan government wants to increase its aid to the project as well as cooperation with Colombia.
During his speech, Aragonès said that missing people is also a problem in Catalonia, as during the Spanish Civil War (1936-1939), 20,000 people disappeared.
Since then, authorities have recovered the remains from many mass graves thanks to DNA testing, "so we can accompany families in dignity," he said.
To help Colombia's UBPD, the government will send €295,000 in humanitarian aid through the United Nations Development Programme.
Aragonès, accompanied by Catalan foreign minister Meritxell Serret, also met with the Orlando Fals Borda civil society group, a Colombian NGO that receives economic support from the Catalan Development Cooperation Agency.
South America trip
The president and foreign minister will travel around South America until March 21 in a trip that will also lead them to Chile, Uruguay, and Argentina.
They will meet with former Uruguayan president Pepe Mujica (2009-2014), and the current vice president Beatriz Argimón, among others.
Before traveling to Uruguay, Aragonès and Serret, will spend some more time in Colombia where they will meet with Catalan companies based in the country and other civil society group leaders.
The trip will continue on to Argentina, where politicians will open a new governmental office in Buenos Aires to have representation in the continent.
The office will be a "symbol" that highlights the "move forward" taken by the government to improve their relations with South America, Meritxell Serret said before departing.
While visiting Buenos Aires, Aragonès and Serret will also sign a bilateral cooperation agreement between the Catalan government and the Buenos Aires regional government before meeting with Axel Kicillof, the regional governor.
Hours later they will make an offering to the statue of Catalan president Lluís Companys located in Plaza Catalunya square, which was inaugurated in 2017.
The trip will end in Chile, where Aragonès will meet with the country's former president and United Nations High Commissioner for Human Rights between 2018 and 2022, Michelle Bachelet. She is also the laureate of the Joan Alsina Human Rights prize, awarded by Casa Amèrica cultural center.