Businesspeople related to independence push detained
31 searches and 21 arrested on misuse of funds, money laundering and breach of official duty in Spanish police operation linking Catalan editor with Assange, Snowden and Kremlin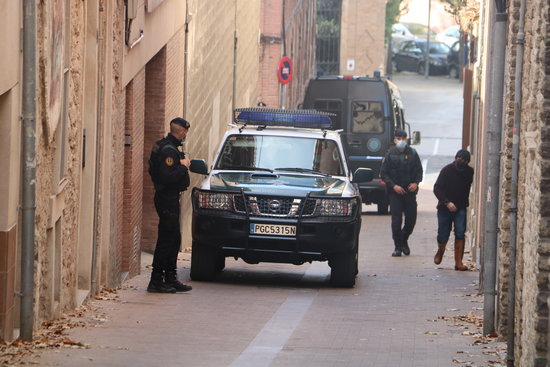 Several Catalan businesspeople related to the independence push were arrested in a Spanish police operation called 'Volhov' that began on Wednesday morning.
The detainees are accused of misuse of public funds, money laundering, and breach of official duty, as the investigation links the Catalan independence camp with Julian Assange, Edward Snowden, and the Russian government.
In an operation led by a Barcelona court, searches in 31 spots across Catalonia and 21 detentions were being carried out for "crimes related to corruption and public disorder," as the investigation suspects that some public money has been used to fund pro-independence activities and protests. Documents, IT devices, and phones were among the confiscated items.
The pro-independence camp has already blasted the operation, calling it "repression," while unionist leaders have voiced their support for the police actions.
Detained
Among those detained were the head of Carles Puigdemont's office, Josep Lluís Alay, and well-known editor Oriol Soler, the Catalan News Agency (ACN) learned.
Former senior official of the now-defunct CiU party David Madí was also arrested, ACN confirmed.
Those detained also include, among others, Xavier Vendrell, a former ERC party senior official; Josep Campmajó, a Girona-based businessman; Xavier Vinyals, the president of a lobby in favor of Catalan national sports teams, Plataforma ProSeleccions Catalanes; Toni Fusté and Roc Aguilera, businessmen residing in Igualada, like Soler; Jordi Serra, a comptroller in the office of the Catalan presidency during Puigdemont's stint in power; Jordi Mir, the mayor of Cabrera de Mar, north of Barcelona; Pilar Contreras, an education department official; and Marta Molina, who has ties to ERC and is a secondary school teacher.
Reasons for police operation
Spain's Guardia Civil is investigating whether allegedly irregular subsidies granted by Barcelona's regional authority (Diputació de Barcelona) to entities close to the now-defunct pro-independence CDC party ended up financing activities related to the pro-independence push – these subsidies are also being investigated and in fact, the 'Volhov' case is a branch of the one affecting the Diputació de Barcelona dating back to 2016.
Some of this money is believed could have been used to fund Tsunami Democràtic, the anonymous group that organized several protests after the 2017 referendum leaders were sentenced. Along with the occupation of the Barcelona airport, one of the biggest protest actions in late 2019 consisted of blocking off the AP-7 highway at the French border, for which 196 people are under investigation.
A number of officials are under investigation for specific events or acts within this alleged network.
Soler linked with Assange, Snowden and Kremlin
For instance, the detained editor Oriol Soler is suspected to allegedly have ties to Julian Assange, Edward Snowden, and a Kremlin-sponsored "de-stabilization strategy," according to the judge's order that allowed the police operation to take place.
His home in Igualada was searched for four hours and he was arrested, probably until Friday, when a judge will decide the next steps.
His lawyer, Benet Salellas, said that Soler would not have been arrested "if he had not been pro-independence." According to him, Spain is "criminalizing political activism."
Alay, released but investigated for involvement in forum
As for Josep Lluís Alay, he was released later on in the morning but an investigation into alleged misuse of funds will continue.
In an interview with RAC1 station, he said that he had been accused of earning money from work he carried out as a consultant for the 2017 Crans Montana international forum celebrated in Switzerland.
Alay added that former Catalan president Carles Puigdemont took part in the forum in its 2018 and 2019 editions.
Irregularities in new school
During the investigation, an allegedly irregular rezoning of an estate to build a new school in Cabrera de Mar was found to have taken place. A foundation chaired by Xavier Vendrell was in charge of managing the new educational institution. The charter school license granted by the Catalan education department has also been deemed to be irregular.