Secondary border crossings between Spain and France to remain closed after summit
French and Spanish authorities to launch working group to improve cooperation 'against clandestine migration organizations'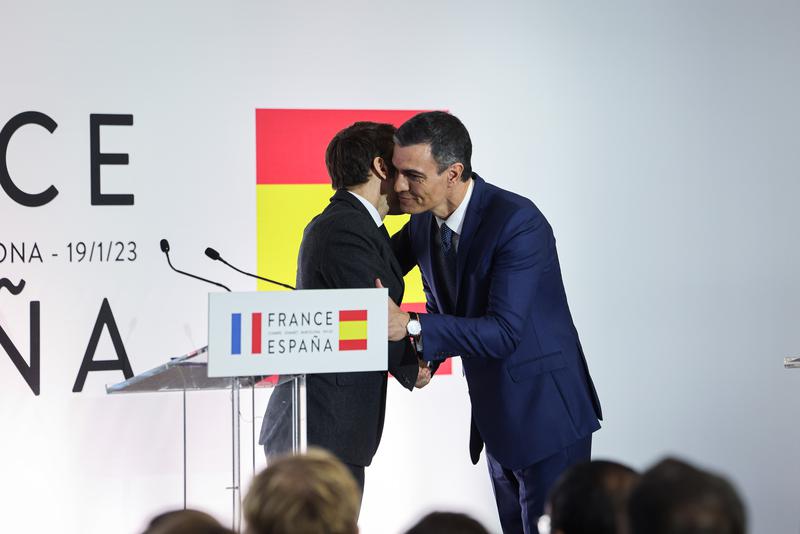 The eight secondary land border crossings between Spain and France that were closed in 2019 will not open anytime soon after the summit held between the governments of both countries this Thursday in Barcelona.
In the joint press conference after the high-stakes meeting, neither Spain's prime minister, Pedro Sánchez, nor France's president, Emmanuel Macron, announced any imminent policy changes regarding some secondary roads that were closed before the pandemic and have not to date reopened.
Yet, both leaders announced that they will launch a working group to improve cooperation "against clandestine migration organizations" that are thought to operate using such passes, as Macron said. The officials the possibility to create joint cross-border security teams.
The president of the French Republic argued that the fact that the Schengen treaty is not being complied with the restricted access across the border through eight roads is due to "exceptional procedures that were justified by circumstances at the Italian and Spanish borders."
Macron brought up the 2016 terror attack perpetrated in Nice, where 86 people died, but at the same time said that the working group that will be launched in the near will contribute to find "effective solutions."
The treaty makes no mention of the situation and both parties only commit to establish no border controls between them, following the Schengen arrangements.
Macron avoids talking about officiality of Catalan language at the EU
During the press conference, Macron avoided to answer whether he supports the official status of the Catalan language at the European Union – the talks held last July between the Catalan and Spanish governments resulted in Madrid committing to work towards the possibility to use Catalan at the European Parliament.
Among the topics agreed on in the treaty signed on Thursday in Catalonia's National Art Museum (MNAC) is the will to promote learning the language of the neighboring country and to use it on a daily basis in cross-border regions.
Sánchez: 'Constitution is complied in Catalonia'
Pedro Sánchez referred to the pro-independence demonstration that took place in the morning, by saying that the Spanish constitution allows for the right to protest even when rally-goers stand for issues not allowed by the Carta Magna.
"Today the Constitution is complied in Catalonia," he said.
The Spanish leader also thanked Catalan president Pere Aragonès for greeting him and Macron and downplayed the fact that he did not stay for the event in which the Spanish and French national anthems were observed and the troops inspected.