Barcelona to send generators and fire trucks to Kyiv, mayor says during trip to Ukrainian capital
Mayor Colau vows to support country against "illegitimate" Russian invasion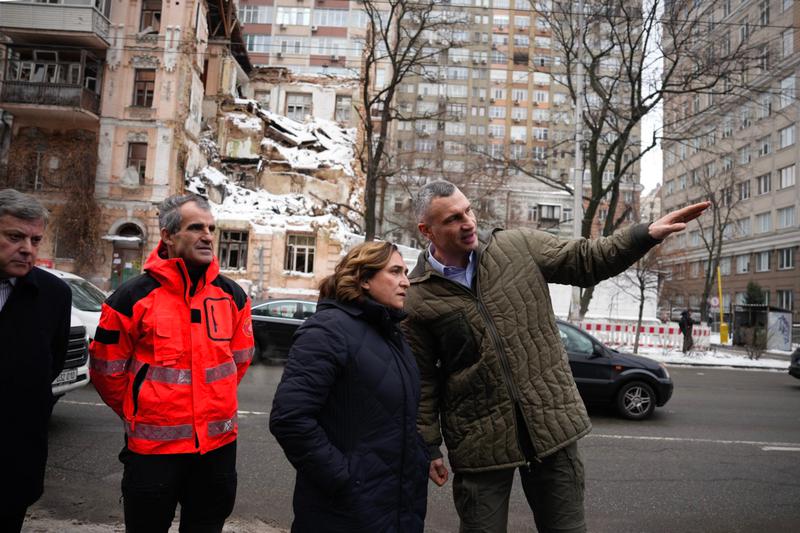 The Barcelona council will be sending electricity generators, more emergency equipment, and fire trucks to Kyiv, mayor Ada Colau announced on Friday during her trip to the Ukrainian capital.
The Catalan council will send the generators and other equipment, including protective clothing for biological and chemical emergencies, on December 16, while new trucks from the Barcelona fire brigade will be sent to Ukraine in January or February.
The first shipment will include generators, a hydraulic rescue system, more than 300 items of protective gear for biological emergencies, 100 for biological ones, and 15,000 masks. The second shipment will include a crane capable of lifting up to 40 tons for removing debris during rescue operations and a fire truck.
Kyiv mayor Vitali Klitschko, who had invited Colau to his city, thanked the Barcelona council for its donations and said the generators would be going to hospitals, schools, and other key locations that have had electric supply issues.
Last summer the Barcelona council sent Kyiv a fire truck, while the Barcelona port sent a rescue vehicle with a 37-meter extendable arm.
Barcelona against "illegitimate invasion"
"Barcelona will not forget Kyiv or the people of Ukraine and we will remain by their side until this illegitimate invasion ends," the anti-austerity Barcelona En Comú politician told Klitschko.
Colau stressed Barcelona's commitment to the Ukrainian cause and willingness to help after visiting the Kyiv council headquarters alongside Klitschko and the head of the Catalan capital's fire brigade, Sebastià Massagué.
"People are not planning on giving up their homes," Colau said, adding that "Barcelona must stand by their side and strengthen humanitarian cooperation."
The Barcelona mayor also said she was shocked to see how life was going on, despite the war. "Kyiv is lively and is not resigned."
Barcelona and Kyiv, sister cities
Barcelona has taken in thousands of Ukrainian refugees since the start of the war last February and as of September, following Klitschko's visit for the La Mercè festivities, Barcelona and Kyiv are sister cities.
The Ukrainian capital will also be the guest city at the 2023 La Mercè festivities, and over the next year, both cities will be hosting joint cultural events together.