Barcelona and Kyiv become sister cities during Ukrainian mayor's La Mercè visit
Cities will host joint cultural activities over next year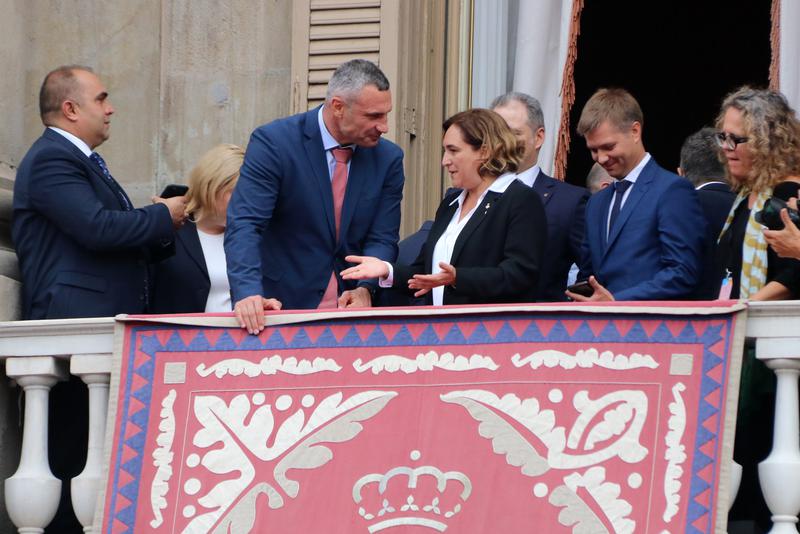 The Catalan capital and Ukrainian capital are now sister cities.
Kyiv mayor Vitali Klitschko was in Barcelona on Saturday for the Catalan capital's La Mercè festivities, where he met with mayor Ada Colau at the city council headquarters at Plaça Sant Jaume square to sign the formal agreement.
Both politicians called for peace in Ukraine and emphasized their cities' ties to one another.
"I wouldn't speak of a 'conflict' but rather an occupation that is unfair, cruel, contrary to international law, and that there are war crimes," Colau said.
"We are fighting for values. The same values that Barcelona, Berlin, Paris, and European cities have," Klitschko said. "And we are fighting for the future of our homeland."
2023 guest city
While Kyiv is not La Mercè's guest city this year – Rome is, but Sunday's general election in Italy made this weekend a tricky one to miss – the Ukrainian mayor was invited nonetheless.
"I'm very happy to be here and to see Barcelona's residents celebrate their party," Klitschko said, adding that he was "very happy to have been invited to next year's edition."
Over the next year, both cities will be hosting joint cultural activities together.