Barcelona court orders council to remove yellow ribbons from official buildings
Judge says symbols in support of jailed independence leaders are "partisan" and infringe principle of neutrality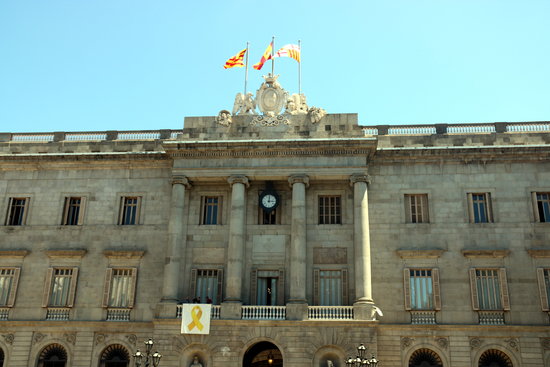 A Barcelona court has ordered the city council to "immediately and definitively" remove all yellow ribbon symbols from official municipal buildings, arguing that they infringe the fundamental right to equality of citizens.
The court said it is "undeniable" that the yellow ribbon is a "partisan" symbol that "aligns with the pretensions of one group of citizens, with the inevitable exclusion of the rest," and therefore contravenes "the principles of institutional neutrality and objectivity."
Yellow ribbon symbols have become a way of showing support for the jailed and exiled leaders who organized the 2017 independence bid in Catalonia, with many people wearing the symbols or hanging them from buildings, including public institutions.
The suit was brought by the unionist lawyers association, Advocats Catalans per la Constitució, on the grounds that the yellow ribbon symbol represents support for Catalan independence, is unofficial, and "breaks the social consensus."
No symbols currently on city hall facade
However, sources in the city council say that currently there are no yellow ribbon symbols on the facade of Barcelona city hall, and they point out that whenever there have been they were put up "with consensus" and therefore "respected neutrality."
Meanwhile, the Catalan government rejected the court's decision, with spokeswoman Meritxell Budó saying on Friday that the ruling is "another example of the regression of democratic and political rights."
The symbols have been at the center of various controversies in recent months, most notably when a court found Catalan president Quim Torra guilty of disobedience for failing to remove one of the symbols from government HQ in the run-up to the April election.
That ruling led to Spain's electoral commission ordering that Torra should be disqualified as an MP and lose his seat in the Catalan parliament, effectively removing him from office. That issue is ongoing as Torra has challenged the decision in the high court.