A week of ups and downs for jailed leader Junqueras
While former vice president began leaving prison to work three days a week, top EU court dismisses his request for interim rights as MEP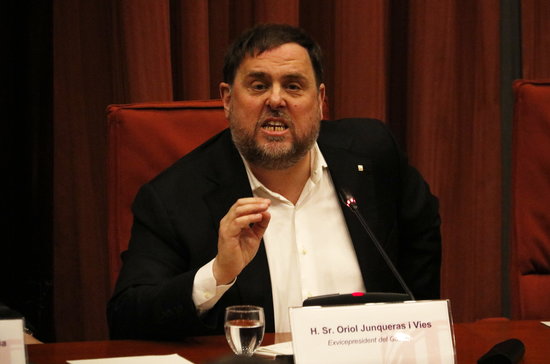 It has so far been a week of ups and downs for jailed Catalan independence leader Oriol Junqueras, who left prison for the first time on temporary release, but who also experienced a setback in his legal struggle to take up his seat in the European Parliament.
While Junqueras was given a warm welcome by supporters when he arrived for his first day at a university in central Catalonia, he later learned that the EU's General Court had turned down his request to sit in the chamber until a final ruling is made on his case.
It was a case of you win some and you lose some for the former vice president sentenced to 13 years in jail for his role in the 2017 independence bid, although the fallout from his conviction and from his victory in last May's European election will go on for some time.
While many experts predict that Junqueras' conviction for sedition by Spain's Supreme Court will eventually end up in the European Court of Human Rights, before that, the EU's Court of Justice must first rule on whether he has the right to serve as an MEP.
Dismissal does not affect final Court of Justice ruling
The decision by the General Court this week to dismiss his request to serve as an EU lawmaker while his case is heard in the Court of Justice is a setback for Junqueras, but it will not affect the final decision on whether he should have his rights as an MEP reinstated.
Junqueras made his interim request to the General Court after the European Parliament declared his seat vacant, which came after Spain's Supreme Court upheld the electoral board's veto preventing him from taking his seat as an MEP.
The EU's General Court justified its decision to dismiss Junqueras' request, saying that it has no powers to force the European chamber to change its procedures, nor any power over the Spanish courts in a case such as this.
The former vice president will now have to wait until the European Court of Justice rules on whether he has full MEP rights and, therefore, immunity from prosecution. No date has been set for the ruling, but a judgement is expected sooner rather than later.