2017 referendum electoral board members to face retrial after acquittal
Prosecutors request two years and nine months in prison for disobedience and usurpation of functions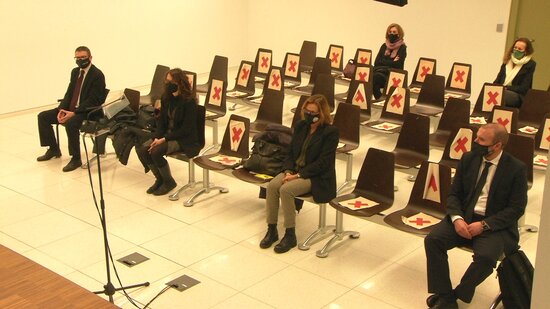 The 2017 independence referendum electoral board members will face a retrial for disobedience and usurpation of public functions, after previously being acquitted of wrongdoing in April 2021.
The Barcelona High Court is forcing a repeat of the trial as requested by the prosecutors, who believe there was an error in the assessment of the evidence, especially in the documentation.
The original outcome of the trial did not find proof that the electoral board members gave any instruction, nor that they met again after the Constitutional Court obliged them to step down.
The prosecution also sees a contradiction between the facts declared proven and the final decision, and insisted that the referendum electoral board members signed resolutions and gave orders despite knowing that the Constitutional Court had declared the vote illegal.
Among the five who will now face a retrial is the current minister for equality and feminism, Tània Verge, as well as current Junts MP Josep Pagès. They are joined by professors Jordi Matas, who chaired the group, Marc Marsal, and Marta Alsina.
Due to their status as an MP and a minister, Pagès and Verge are referred to the Supreme Court and the High Court of Catalonia respectively, as they cannot be tried at the local criminal court level. This could see the new trial be brought to one of the highest tribunals in Spain, or else it could be divided into three: the Supreme Court, the Catalan High Court, and the Barcelona criminal court.
Roles in 2017 independence referendum build-up
The public prosecutor had requested sentences of two years and nine months in jail for each defendant.
In the buildup to the 2017 independence referendum, the five-member board was tasked with monitoring the vote after the law permitting the referendum was passed in the Catalan parliament on September 6, 2017.
A few days later, Spain's Constitutional Court threatened to impose a fine of €12,000 per day if they continued in their positions. They had been presented with several previous warnings stating that they had to step down because the referendum had been deemed illegal.
The government accepted the abolition of a referendum monitoring authority after they stepped down on September 26, a week before the vote.
In the two weeks that they spent at their posts, they named territorial electoral authority members, agreed to accept organizations willing to take part in the referendum organization, and greenlighted the official sample of ballots for the plebiscite.
They also oversaw the government campaign encouraging people to vote and decided on the timings of the electoral procedure.
All of these actions were taken once the Constitutional Court had already suspended the laws enabling the referendum and electoral authority – although, they did not resign until the court threatened to impose the daily fine upon each member.