12 French MPs want 'climate of opinion' to resolve Catalan political conflict
Elected members of France's National Assembly meet parliament speaker Roger Torrent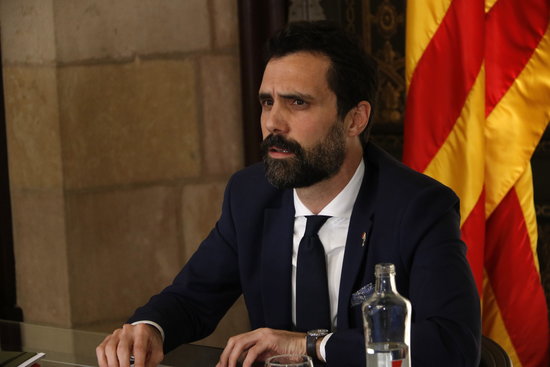 Twelve members of the French parliament want to generate the "necessary climate of opinion" to resolve the political conflict between the Catalan and Spanish authorities, according to Roger Torrent, the speaker in the Catalan parliament.
Torrent met with the twelve MPs via video call on Monday and said that they showed "concern" over the conflict and were interested in the upcoming elections on February 14.
The MPs wanted to know more about the political situation in Catalonia and Torrent explained how they could "intervene" to help reach a political solution.
During the meeting, Torrent spoke in favor of the "democratic pathways" that have been seen in the UK and Canada, with independence referendums for Scotland and Quebec.
Speaking to the press following the meeting, Torrent explained that a number of the 12 MPs he met form part of the majority in the French National Assembly that supports the government of the French president, Emmanuel Macron.
The parliament speaker believes that a majority of the European political class think it is "necessary" to find a democratic solution to the political conflict through "negotiation and dialogue."
Among the MPs who took part in the meeting were the Socialist Regis Juanico, three MPs from the parliamentary group Liberty and Territories, three from Macron's La République En Marche, two from the Democratic and Republican Left, one from the Democratic Movement, one from La France Insoumise and one independent.
Concern for jailed and exiled pro-independence leaders
One of the French MPs who spoke to Torrent, Sébastien Nadot, told Catalan News that the meeting was "not about independence," but about the situation of the jailed pro-independence leaders, which Nadot said he could not understand.
"There is a parliament speaker [Carme Forcadell] who is imprisoned for many years, and that raises a lot of questions for an MP." he said.
Nadot also commented on the conflict over the parliamentary immunity of former Catalan president Carles Puigdemont, now a member of the European parliament.
"They are people chosen by the people to be represented in the EU parliament, they are also my representatives, they are not only from Catalonia but from the whole EU," he said.