10-year prison sentence for sedition requested for former police chief
Prosecutor open to alternative conviction not entailing jail time for Trapero and other police officials during 2017 referendum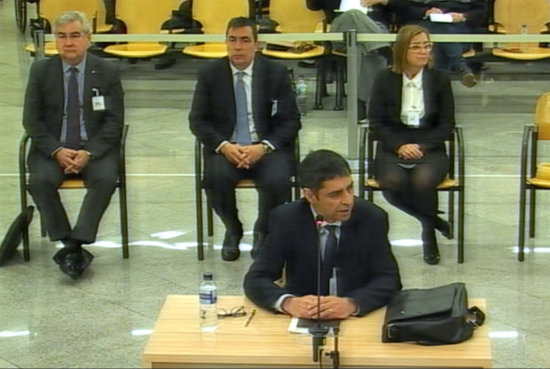 Spain's public prosecutor requested a 10-year prison sentence on sedition charges for Catalonia's former police chief, Josep Lluís Trapero, in charge during the 2017 referendum. He is accused by Spain's judiciary of acting in collusion with the government, led by Carles Puigdemont, and of "inaction" instead of trying to stop the vote.
Yet, at the same time the prosecutor opened the door to a milder conviction, not implying prison: on Monday morning, after a three-month hiatus of the trial due to Covid-19, the prosecutor's office said that Trapero and three other officials should be convicted for sedition, but added that in the event the court sees no sedition, the request would be a disobedience conviction, which carries no prison time.
Disobedience would carry one year and eight months of disqualification from the Catalan Mossos police or public posts, and a €60,000-fine for him.
Likewise, the prosecutor requested also a sedition conviction for the former home affairs officials Cèsar Puig and Pere Soler, with the same prison sentence, but also a disobedience alternative.
For the fourth defendant in the trial, Teresa Laplana, the prosecutor asks for a 4-year sentence for sedition, but a one-year disqualification and €30,000-fine for disobedience if sedition is not accepted.
This is the final request of the prosecutor in the trial, which means a less severe proposal than at the beginning of the trial: 11-year prison sentence on rebellion charges for the three men, while the request for Laplana stays the same with the disobedience possibility as only addition.
The prosecution was expected to announce lesser charges rather than rebellion - not even the jailed pro-independence politicians and activists, who were tried in a higher Spanish court, were convicted for rebellion.
Trapero and Laplana's defense asked for their acquittal.