Unionist party questions legitimacy of prison leave for independence leaders
Minister refutes suggestion by Cs MP that decision to grant Junqueras and other officials temporary release to work is result of political talks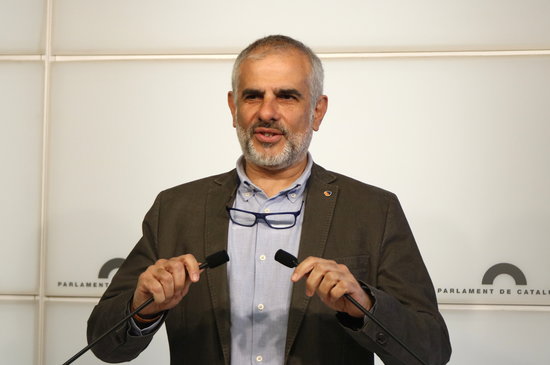 When jailed Catalan independence leader Oriol Junqueras arrived at Vic university's Manresa campus on Monday, he was greeted by some 70 teachers, students and onlookers with applause and shouts of support.
Junqueras was at the university to begin working as a history teacher as part of the temporary leave of six hours a day, three days a week granted to him by the authorities at the prison where he is serving 13 years for sedition.
Yet, not everyone welcomed the decision to let Junqueras - and other former officials and activists convicted for the 2017 independence bid - to leave prison in order to work, with the spokesman for the unionist Ciudadanos party (Cs) questioning its legitimacy.
The head of Cs in the Catalan parliament, Carlos Carrizosa, suggested that the leave granted to seven of the nine jailed leaders is the result "of the negotiations in the blackmail talks" between the Spanish and Catalan governments.
Carrizosa was referring to the summits on the conflict in Catalonia that were a demand of the pro-independence ERC party - which Junqueras heads - in exchange for not blocking Socialist leader Pedro Sánchez's bid to become Spanish president.
"What a coincidence," said Carrizosa about the prison regime allocated to the jailed leaders that allows them the right to apply for temporary release to work, "it's the price Pedro Sánchez is paying for becoming president," he added.
Prison officials are "independent public servants," says minister
However, the Catalan justice minister, Ester Capella, later defended the prison authorities and the way they have managed the situation of the jailed leaders, saying: "They are independent public servants who do their jobs well."
Insisting that the leave granted to the jailed leaders is in line with the regulations, Capella said she wanted to make it clear that "no personal conviction of any public servant or minister can change the sentence" that Spain's Supreme Court gave the leaders.