'Reminder of former Spanish regime' - Westminster debates Catalan leaders' sentences
Speaker John Bercow says former president Puigdemont would be "extremely welcome" to speak in Parliament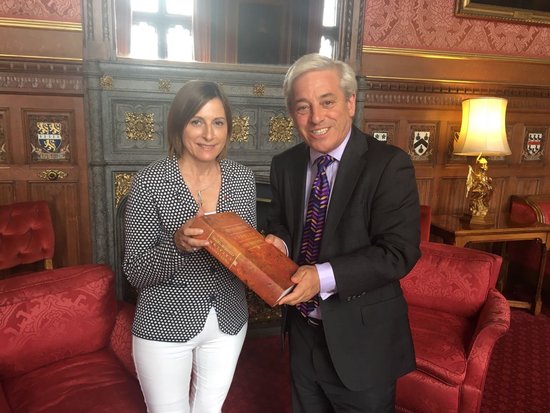 Lawmakers at the British parliament discussed the sentencing of Catalonia's independence leaders on Tuesday, with many harshly criticizing the Supreme Court's sedition verdict and UK's secretary of state for Europe, Christopher Pincher, calling it both a "matter for Spain" as well as "a reminder of a former Spanish regime."
Also on Tuesday, parliament speaker John Bercow, said that Puigdemont would be "extremely welcome" to speak at Westminster Palace.
He made these comments after a Labour MP, Emily Thornberry, asked MP Pincher whether Puigdemont would be free to speak in the UK given his ongoing extradition request.
Pincher rejected commenting on the arrest warrant and said the conflict between Catalonia and Spain should be solved through "dialogue." He also called Spain's judiciary "transparent."
Thornberry, who initially brought up the matter of Catalonia, criticized the 9-to-13-year sentences the pro-independence leaders face for sedition. "I'm afraid that what we saw yesterday was the judicial equivalent to what we saw from the Spanish police in the streets in Catalonia two years ago: unnecessary, heavy-handed and counterproductive."
Hywel Williams, who is a member of the All-Party Parliamentary Group on Catalonia and a Plaid Cymru MP, also spoke during Tuesday's debate, disagreeing with the government stance on the issue as an internal matter: "It's a matter for us and the EU. And it's not only a Spanish matter."
Peter Grant, of an SNP MP, also had his say on the issue. As many have condemned the independence movement for defending illegal measures to break with Spain, Grant argued that "being constitutional doesn't make something morally defendable."