"Prison is not the solution:" civil society entities react to sentence
FC Barcelona, NGO founder Òscar Camps and trade unions are among those to lambast the ruling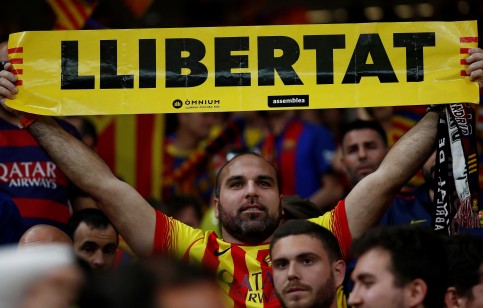 The historic conviction of the independence leaders on Monday morning has sparked reaction across Catalonia, in political, but also public spheres.
FC Barcelona has condemned the verdict, stating that "prison is not the solution," arguing that the sentence issued "does not help to resolve the conflict." The Catalan club expressed its "support and solidarity" for the families of those deprived of their freedom.
Gerard Piqué quickly retweeted the club's statement, adding that he is "proud to be a part of it."
Fellow Catalan club Espanyol has released a statement in which they reiterate their "respect for the judicial decisions," and althought hey refuse to offer "personal or individual positions" over the matter, they lament "the suffering" of the leaders and their families.
The Catalan Football Federation has also suspended all matches on Monday, in order to show solidarity with the leaders and their families. This does not include La Liga or the Spanish national team.
The General Workers' Union (UGT) have also condemned the verdict as "unfair and unjustifiable," lamenting that it only "delays a political solution."
"The ruling means that once again rights and freedom of expression and protest are called into question, rights that we have fought for in our organization," they have said.
They have expressed their sadness over ex-adviser Dolors Bassa, who was the general secretary of the organization in Girona between 2008 and 2015 and has been sentenced to 12 years in jail. "We will not stop working for your freedom," they said.
Òscar Camps, founder of refugee-rescuing NGO Open Arms has released a statement on Twitter lambasting the Spain's "consolidated democracy," which "incriminates activists, imprisons artists, politicians and anyone bothering the regime."
President of Barcelona's Chamber of Commerce, Joan Canadell has said that they "cannot remain indifferent" over those convicted, who are "trying to fulfill the mandate of the people".
Canadell has urged for a reopening of "the channels of effective dialogue to seek agreements and guarantees with the government of the state to find a way to release those currently detained."