President calls verdict 'act of vengeance and not justice'
Quim Torra announces extraordinary cabinet meeting, speech in parliament, and letter to Spain's president and king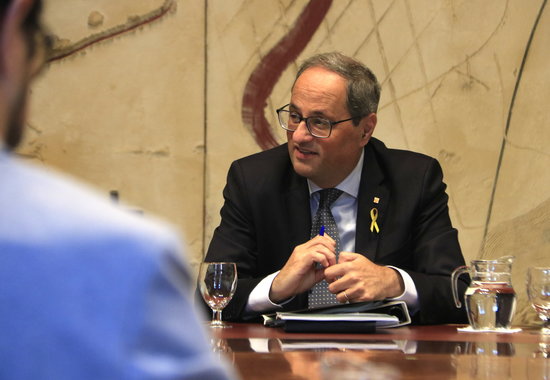 "This is an act of vengeance and not justice." This is how the Catalan president, Quim Torra, described the verdict on the nine 2017 referendum leaders, who have been found guilty of sedition, and given sentences of up to 13 years behind bars.
Two hours after the judges' announced the verdict on Monday, Torra made a statement outside the government headquarters alongside his ministers, and former top officials.
Torra underlined the total innocence of the political leaders: "individuals wo always acted in a strictlyd emocratic and absolutely peaceful manner have been sentenced."
Torra expressed he and his government's total rejection of the verdict, dismissing it as "anti-democratic" and a "general cause against the right to self-determination and independence."
The president also pointed out that Spain has endorsed international treaties granting territories the right to self-determination, and he added that the Spanish criminal code does not mention holding a referendum as a crime.
"Holding a referendum is not a crime. The right to self-determination is a right of nations recognized in international treaties signed by the Kingdom of Spain," he stressed.
The President has also announced that he will seek to carry out an exceptional cabinet meeting in Parliament. He will also speak in Parliament regarding the sentence, and write a letter to the President and King of Spain, in which he will ask to meet with them to "tackle the crisis."