Online bookings for monkeypox vaccine open – but not for everyone
Targets include people with high-risk sexual behavior as vaccination center at Fira Barcelona congress hall opens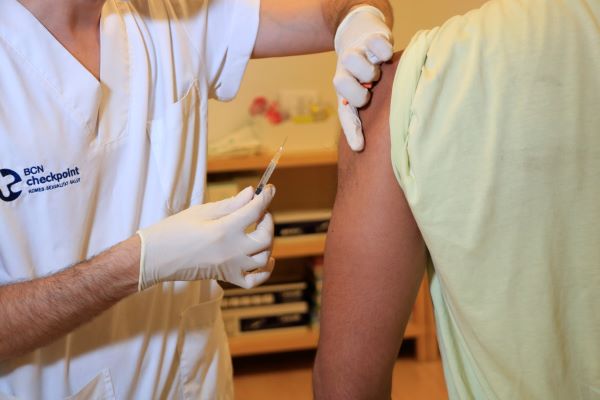 Online bookings for monkeypox vaccinations opened on Monday at vacunaverola.gencat.cat and a new center to administer the jabs has opened at the Fira Barcelona congress hall, the same venue used for giving shots against Covid-19.
On Tuesday, the first day of vaccinations, around 2,400 people had already booked an appointment. According to health authorities, the hall can administer up to 3,000 vaccines per week.
As for monkeypox, and given the "limited number of doses available," the Catalan health department has limited who will be able to receive them based on certain criteria.
These criteria principally include having sexual behavior deemed high-risk – considered as such when a person has several sexual partners, takes drugs while having sexual relations, or having had STIs –, being included in the PrEP rollout for HIV, or having HIV and currently medically supervised.
Only those 18 and over who have not suffered from monkeypox can be eligible, and only if they have not had any contact with a positive case in the 10 days prior to the vaccination, have never received a jab against the disease, and have no symptoms when receiving it.
The rollout began in late July, when around 1,000 people had tested positive for monkeypox – since then, 2,838 doses have been administered in the several centers already up and running across Catalonia.
Over 2,000 monkeypox cases in Catalonia
As of September 9, some 2,042 people have tested positive for monkeypox in Catalonia, and 847 more are suspected cases.
Most of them are men between 20 and 60 years of age who had symptoms including fever, fatigue, skin rash, and abnormalities in the lymph nodes.
Among the most serious consequences of the illness have so far included inflammation of the lining of the rectum and injuries to the eyes.
Some people have had to be hospitalized, but all of them have already been discharged according to the health department.
Sexual relations, especially during mass parties, are the most common way of transmission.