No quarantines, no testing, but face masks remain: Q&A on new Covid protocols
All you need to know if you have symptoms, need a sick leave, or want to travel to Catalonia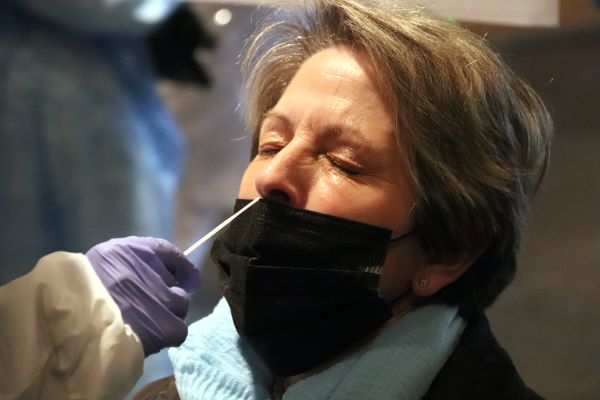 The pandemic has entered a new era in Catalonia with a major easing of the protocols to monitor its presence in the country. From Monday, Covid-19 is being treated largely like the flu, in terms of its medical surveillance, quarantines, testing, and sick leave.
A new protocol came into force on Monday affecting all of Spain, after an agreement among administrations, and here's a Q&A on how Catalonia is putting it into practice.
What should I do if I have Covid symptoms?
You have no need to test, self-isolate or go to the doctor's if you have mild symptoms or none at all. Yet, authorities recommend that you stay at home until symptoms are gone, avoid approaching vulnerable people, avoid attending mass events, reduce your social interactions as much as possible, and avoid spaces with little ventilation. Go to the doctor only if you would ask for an appointment with the same symptoms from any other illness.
But do I have a right to get a Covid test via the public health system?
If you have mild or no symptoms, Salut, the public healthcare body will not test you for Covid, unless you are aged 60 or over, have a serious condition regardless of age, are regarded as vulnerable, are working in places where vulnerable people are i.e. health centers and care homes, you have a serious illness, are immunocompromised, pregnant, are working in health transport services, or have returned from countries with new variants within the past 14 days.
Can I at least buy a self-test in a pharmacy?
Yes, you can. And if you test positive, you have to follow the guidance given in the first question. There's no need to notify the Catalan public health system if you test positive.
So, I don't have to notify close contacts if I'm positive.
No need to, no, but do so if you have had contact with vulnerable people. They will be contacted by the authorities.
I have tested positive after a pharmacy antigen test. Do I have automatic sick leave at work?
It used to be like this if you wanted until now. But not anymore. From now on, you will only get sick leave from your GP at the primary care center where you are registered and only if your condition justifies it. You will have automatic sick leave if you are a worker in a health center or a care home only.
So, can I really leave home despite having tested positive for Covid?
For the first time in two years, yes you can! But authorities call on the public to be very cautious if you do. And if you have a serious condition, then you do have to quarantine.
How can I find out how the pandemic is evolving in Catalonia?
Covid figures have been being updated every day for two years – but no longer. The health system will only update them on Tuesdays and Fridays. Given that the protocol indicates that all positive cases will no longer be recorded, it makes no sense to provide the same figures since they will not be easy to compare.
Are there any Covid restrictions still in place?
There are just a few of them. The most noticeable one is the obligation to wear face masks indoors at all times. Authorities want to see if the latest protocols work before removing this particular measure.
Can I still be vaccinated?
Absolutely! Check out if you are eligible and where you can go here: https://vacunacovid.catsalut.gencat.cat/
I live in Catalonia. Will I have problems traveling?
You will not be required to do any Covid-related paperwork within Spain. If you go elsewhere, you will have to check with your destination country.
I live outside Spain and am looking to travel to Catalonia. What's the deal, then?
You are very likely to be required to obtain a Covid vaccination certificate, unless you are traveling from a country with a low transmission rate. Check out this guide with the list of countries, updated every week.