Jailed leader Raül Romeva to evaluate Bosnian peace agreement while on temporary release
Fellow prisoner Oriol Junqueras to teach at Vic University, after both granted permission to work three days a week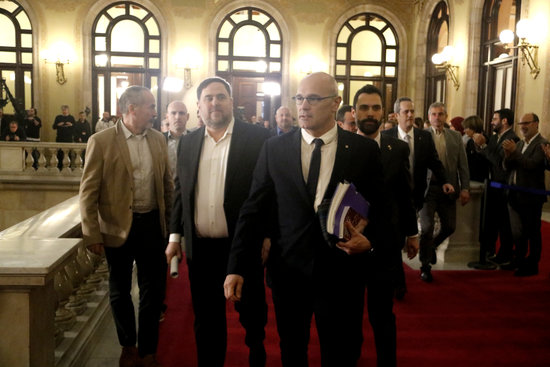 Two of the jailed Catalan independence leaders have revealed the nature of the work they will undertake after prison authorities granted them temporary release for six hours, three days a week.
Former Foreign Affairs Minister Raül Romeva will work for a private body evaluating the progress of the Bosnian peace agreement while ex-Vice President Oriol Junqueras will teach at Vic University.
Junqueras and Romeva are currently serving 13- and 12-year sentences respectively for their roles in the 2017 independence bid.
Romeva to evaluate Dayton Peace Accords
Romeva will evaluate the progress made in the 25 years since the Dayton Peace Accords ended the Bosnian War.
His role will also involve examining the past and future relationship with the Balkans, especially between Catalonia and Bosnia and Herzegovina, and between Barcelona and Sarajevo.
The work aims to promote analysis, research and reflections, the understanding of civil conflicts, and the role of community action in conflict or emergency situations.
Romeva, a member of the pro-independence party Esquerra Republicana (ERC), has close ties to the Bosnia.
Throughout the 1990s he promoted initiatives to support refugees in Croatia, served as Deputy Director of the UNESCO Office in Bosnia and Herzegovina, and acted as an official observer in elections there. He has also written two books and a novel based on his experiences during the Bosnian War.
Earlier this month, Romeva gave an account to Catalan News of his time to date in Lledoners prison.
Junqueras to teach at Vic University
Junqueras, ERC leader, will work for the University of Vic at their Manresa campus in central Catalonia.
In a statement on Friday, the university said they had received a proposal from Junqueras, a doctor in History of Economics.
His exact role is still to be confirmed but will be linked to short courses in continuing education, and Catalan News has learned that Junqueras will take up his position with the university next week.
Other jailed leaders
Jailed activist Jordi Cuixart was the first to be granted prison leave two weeks ago to work and do voluntary work, a decision that the Barcelona prosecutor opposed alleging that the leave should be considered "exceptional."
However, since then, jailed former parliament speaker Carme Forcadell has been allowed out of prison to care for a sick relative, as has former minister Dolors Bassa, who was granted three days' leave a week for eight hours a day to take care of an elderly family member.
On Tuesday, jailed activist Jordi Sànchez left prison temporarily to begin volunteer work at the Fundació Canpedró, an organization that helps vulnerable people at risk of social exclusion.
Meanwhile, former home affairs minister Quim Forn last week began working five days a week in the legal department of the Mediapro audiovisual production company.
Former presidency minister Jordi Turull and former territory minister Josep Rull are the only two jailed leaders who have not applied for leave, but are expected to do so soon.