Jailed leaders Junqueras and Romeva granted temporary release
Prison authorities allow both to leave prison to work for six hours, three days a week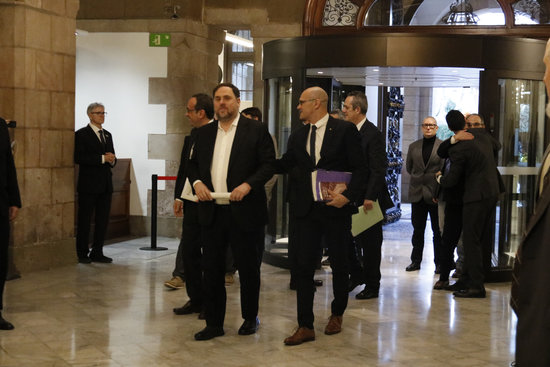 The prison authorities in Lledoners have agreed to grant jailed Catalan independence leaders Raül Romeva and Oriol Junqueras temporary release.
They will be allowed to work outside of prison for six hours, three days a week.
Junqueras and Romeva are currently serving 13- and 12-year sentences respectively for their roles in the 2017 independence bid.
Earlier this month, Romeva gave an account of his time so far in prison to Catalan News.
Other jailed leaders
Jordi Cuixart was the first to be granted prison leave two weeks ago to work and do voluntary work, a decision that the Barcelona prosecutor opposed alleging that the leave should be considered "exceptional."
However since then, jailed former parliament speaker Carme Forcadell has been allowed out of prison to care for a sick relative, as has former minister Dolors Bassa, who was granted three days' leave a week for eight hours a day to take care of an elderly family member.
On Tuesday, former activist Jordi Sànchez left prison temporarily to begin volunteer work.