Human rights groups denounce 'serious irregularities' in Catalan trial
The International Federation for Human Rights and EuroMed Rights issue joint report criticizing Spain's Supreme Court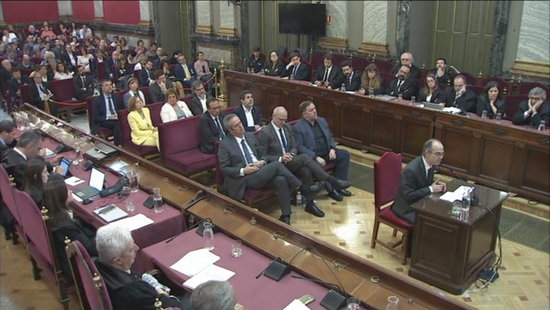 Human rights groups have denounced "serious irregularities" in the Catalan independence trial, with its verdict expected to be announced by Spain's Supreme Court in the coming days.
In a joint report, the International Federation for Human Rights (FIDH) and EuroMed Rights concluded that the judicial process against the 12 politicians and activists charged for calling a referendum and declaring independence in the fall of 2017 "didn't offer the minimum guarantees to be qualified as fair."
The two organizations alleged that judges didn't do enough to ensure that lawyers could shed light on the alleged facts—for instance, when they prevented defense teams from contrasting the testimony of some witnesses with actual footage from the scenes they were describing.
Observers from the two organizations, who attended the Supreme Court hearings in person, said that prosecutors called witnesses whose testimonies offered "stereotypical" narratives and didn't guarantee the right to defense.
After a trial spanning four months, nine of the accused were charged by the public prosecutor with the crime of rebellion, carrying prison sentences of up to 25 years.