Health minister on rising transmission rate: 'A fourth wave would be dramatic'
Alba Vergés says pandemic is at "fragile moment" but suggests restrictions at Easter could be loosened like Christmas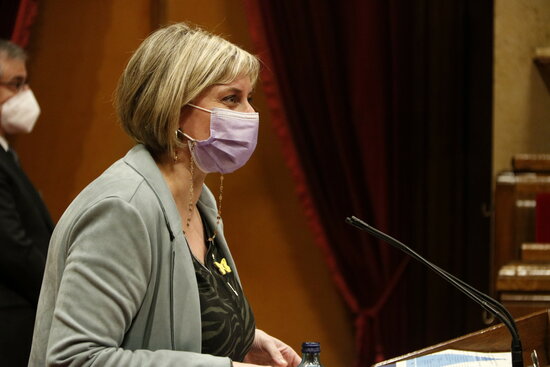 The Catalan health minister, Alba Vergés, expressed her concerns about the changing trend of the pandemic in Catalonia.
Whilst from mid-January to mid-February there was a steady decline in the transmission rate (the number of people each positive case transmits the virus to), over the last week this figure has been increasing, rising from 0.81 to 0.95 (as of February 21).
Since the start of the pandemic, authorities have aimed to keep the transmission rate below 1. Now facing the possibility that this threshold could be surpassed within the week, Vergés has said that a potential Covid-19 fourth wave "would be very dramatic."
"These are very crucial weeks," she added, emphasizing also that her department aims to be particularly vigilant on changes which may have come as a result of the British variant, expected to become the dominant strain within the coming weeks.
While travel from the UK is still restricted, from Monday, February 22, everyone arriving from Brazil and South Africa will face a 10-day quarantine once they land in Spain.
Pressure in hospitals
Interviewed by a Tv3 public broadcaster, Vergés said that the third wave was not as bad as the second one in terms of number of transmissions, but did put greater pressure on hospitals.
While the second wave peaked with 2,793 in hospital and 597 in ICU, the third reached 3,038 in hospital and 731 in intensive care. The minister has said that if a new wave arrives before the pressure on medical centres from the third wave has been eased, the impact on the health system would be "very bad".
In relation to the Easter holiday, just over a month away, she refused to confirm her department's approach. However, Vergés did say that they will continue to "find a balance" between managing the pandemic and permitting some degree of socialising, as they did during the summer and Christmas when curfew and mobility restrictions were temporarily loosened.
Vergés also made reference to vaccinations, implying that the scheme could change if protocols were modified, such as not currently being able to administer an AstraZeneca dose to those over 55.