Fridges trapped in Dover deemed main reason for slow vaccine rollout
Only 8,293 doses administered in Catalonia in first week although 60,000 are sent every week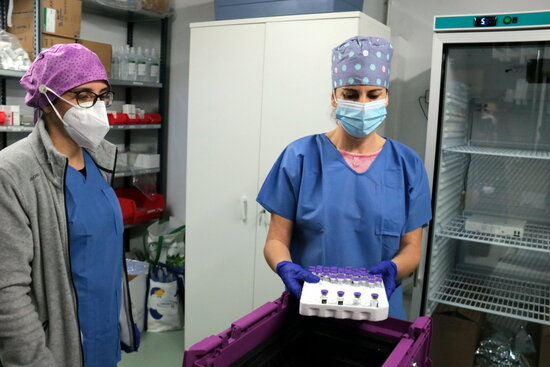 The closure of the Eurotunnel in the English Channel due to the new Covid-19 strain just before Christmas is the main reason for the slow speed in which the vaccine rollout is unfolding in Catalonia, as a number of fridges needed to store doses were trapped in Dover.
This is what the Catalan health authorities said on Sunday, under pressure for having only administered barely 10% of the Pfizer doses they received one week ago.
Catalonia is expected to receive 60,000 doses every week, and the first shipment arrived last Monday – one full week later, only 8,293 people have been vaccinated. This represents barely 0.1% of the total population of Catalonia.
Authorities explained that the fridges recommended by Pfizer to transport the doses to the vaccination sites had to arrive from the UK but got stuck for several days and only arrived this weekend.
Pfizer delayed and EMA plan moved forward
Another reason given by the health department is the fact that the vaccination rollout was available one week earlier than originally planned because the European Medicines Agency moved the date forward – and therefore, they had one week less to plan the logistics of the scheme.
Pfizer was also delayed by one day in shipping the first 60,000 doses last week.
A senior official, Carmen Cabezas, said that they had been "too optimistic in the time intervals."
Health workers missing
Cabezas also added that health workers needed to administer the vaccines are still missing.
"The strategy is not to lose professionals in the primary care sections of hospitals, and that's why we have established extra shifts," she said.
This means that every week 500 workers, mainly nurses, have to do overtime in order to vaccinate people.