Former interior minister: 'I defended referendum as politician but told police to follow court orders'
Joaquim Forn testifies after former vice president Junqueras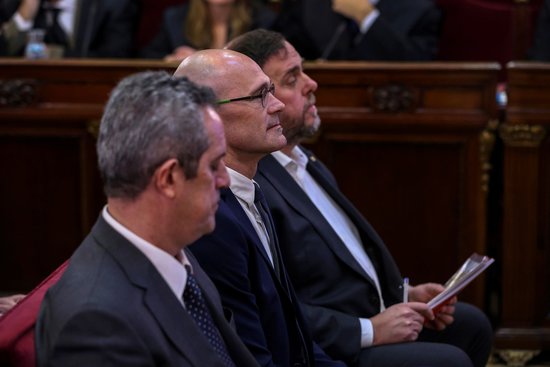 The former Catalan home affairs minister Joaquim Forn testified in Spain's Supreme Court on Thursday and said that he "defended the [independence] referendum as a politician, but told Catalan police to follow court orders."
As the interior minister, Forn was in charge of Catalonia's own police force, the Mossos d'Esquadra, during the independence referendum.
Accused of not doing enough to stop the vote, Forn denies giving any "political orders" to the Catalan police and said the police body always followed court orders: "Nothing of what the Catalan police did on September 20 or October 1 was against the Spanish constitution."
Forn stressed that while Spanish police closed 106 police stations, Catalan police managed to block 297 polling places.
🔴"I defended the referendum as a politician, but as interior minister I told Catalan police to follow court orders," says Joaquim Forn pic.twitter.com/NKylvkP1Yo

— Catalan News (@catalannews) February 14, 2019
Forn spoke after former vice president Oriol Junqueras. Unlike Junqueras, Forn accepted responding questions by the public prosecutor and the solicitor general.
Yet the former home affairs minister, who has been in pre-trial jail ever since November 2, 2017, rejected questions from far-right Vox, which is the private prosecutor in the independence trial.
Government pursued dialogue "until last minute"
Asked about the declaration of independence on October 27, 2017, Forn said that the Catalan government pursued dialogue with Spain "until last minute." Yet, he stressed that the declaration, passed by a majority of MPs in parliament, was never published in the Catalan government official gazette.
Along with Junqueras, Forn is the only minister who's stayed behind bars consistently since November 2, 2017, when the Catalan government was incarcerated following a declaration of independence. Forn has spent 469 days in precautionary detention.
He is to run for Barcelona mayor as JxCat's candidate.