Closing Catalonia's borders and weekend lockdown on the table
Further Covid-19 restrictions to be announced Thursday afternoon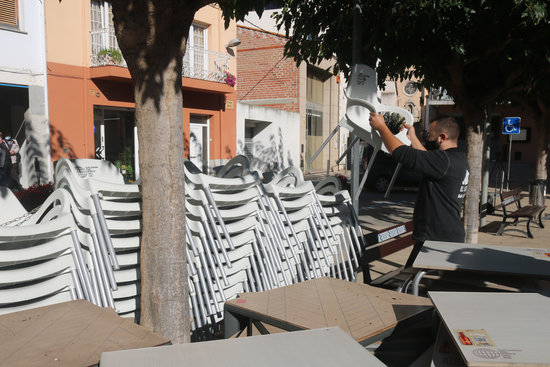 The Catalan cabinet and the civil protection crisis committee (Procicat) are meeting this Thursday morning in order to approve new restrictions to face the second wave of Covid-19.
They are planning to close Catalonia's borders for at least two weeks and lockdown residents in their towns at the weekend – specifically, from 6pm on Friday to 6am on Monday.
The measures will be announced on Thursday afternoon, at around 1.30pm, in a press conference led by interim president Pere Aragonès.
The authorities might also suspend all cultural and sports activities, as well as after-school activities and shops bigger than 800 square meters.
Restaurants will continue to be closed, but take away services will keep going as well as deliveries, whose times are set to be extended to 11pm.
Schools will remain open – apart from possibly post-obligatory courses – and remote work will stay as a recommendation.
The measures will last at least 15 days and the night lockdown, as well as the other previous restrictions, will remain.
Covid-19 situation in Catalonia
The situation of Covid-19 in Catalonia continues to worry authorities.
The outbreak risk has grown at a fast pace in the past few weeks, moving from 150 points in the iEPG index in mid-September to 887 on October 27 – in the past couple of days it fell to 838 as of October 29.
The iEPG index is calculated by multiplying the average spread of the virus over the past seven days by the cumulative incidence over the past two weeks – it is considered to be low under 30 points, moderate at 70, high at 100 and very high at 200.
Another worrying figure is the number of people hospitalized because of the disease, at 2,387 as of October 29, after a sharp rise of 1,500 in the past month – the figure had not been less than 550 or higher than 810 for two months up until October, when the numbers went up.
The number of people in ICUs has also risen lately, up to 434 at the same time – yet, still far below the peak of 1,529 seen in the spring.
The number of declared deaths from Covid-19 per day in October began oscillated roughly from 10 to 25, but reached 78 in one day on October 29, the highest figure of the second wave.
The number of cases is also soaring, with daily new diagnoses now at around 5,000 – number of new positives in the previous 14 days per 100,000 people surpassed 500 last week and was above 600 in late October.