Amnesty International again calls for release of activists jailed in Catalan Trial
Human rights organization calls imprisonment of Jordi Sànchez and Jordi Cuixart an "injustice"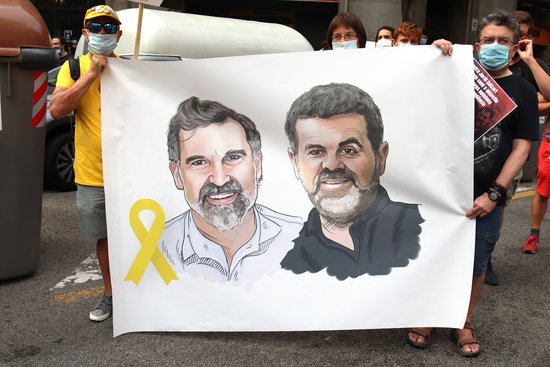 Amnesty International have again called for the release of Jordi Sànchez and Jordi Cuixart, the two pro-independence activists who were jailed for their roles in the 2017 independence push.
The organization has stated that Spain's statal powers "have the opportunity to correct the effects of an unjust sentence against human rights."
The 'two Jordis' called on the Spanish government to "listen" to the human rights group and free them. Jordi Sànchez also criticizes the executive of Spanish president Pedro Sánchez, saying that he cannot "applaud" Amnesty when they speak about issues in other countries and turn a blind eye when the focus is on the Spanish justice system.
There are various ways in which the pair could see their stays in jail reduced having already spent over three years behind bars after being provisionally jailed in 2017 and sentenced to nine years in 2019. Amnesty believe that freeing them would put an end to the "injustice" they have suffered for the last three years.
Cuixart and Sànchez were sentenced for their involvement in protests leading up to the October 1, 2017 referendum, especially for leading a rally outside Catalonia's economy ministry on September 20, 2017, while the building was being raided by Spain's police in an effort to dismantle the referendum.
Both Sànchez and Cuixart were members of civic organisations at the time of the vote and were not part of any political party that carried out the referendum. However, Sànchez has gone on to become a senior member of Junts per Catalunya since his imprisonment.
Technical report on Catalan trial
In November 2019, the NGO sent a technical report on the case to all sides in the Catalan Trial – public prosecutor, solicitor general, defenses, and private prosecutor – as well as regional and international human rights groups.
In the paper, the organization casts doubt on whether the 9-year prison sentence for each of the leading activists complies with international human rights law.
While Sànchez and Cuixart stood on a police car to call off the protest on September 20, 2017, there were no people injured or arrested during the event.
"Excluding the events attributed to Cuixart and Sànchez from the freedom of peaceful assembly, the Supreme Court ignored its obligation to analyze the events according to the legality, legitimate finality, necessity, and proportionality criteria, as international human rights law demands," reads the report.
Amnesty International have been asking for their freedom ever since they were sent to precautionary detention on October 16, 2017.
The human rights group thinks the sentence represents a restriction of the freedom of expression and right to peaceful assembly that does not comply with the restrictions accepted by Article 21 of the International Covenant on Civil and Political Rights and Article 11.2 of the European Convention on Human Rights.
For the international group, the crime of sedition in Spain is "vague" and "against the principle of legality."