Upcoming Barcelona International Community Day presented as 'fast track' for integration
Event takes place on October 22 at Maritime Museum with closing party for first time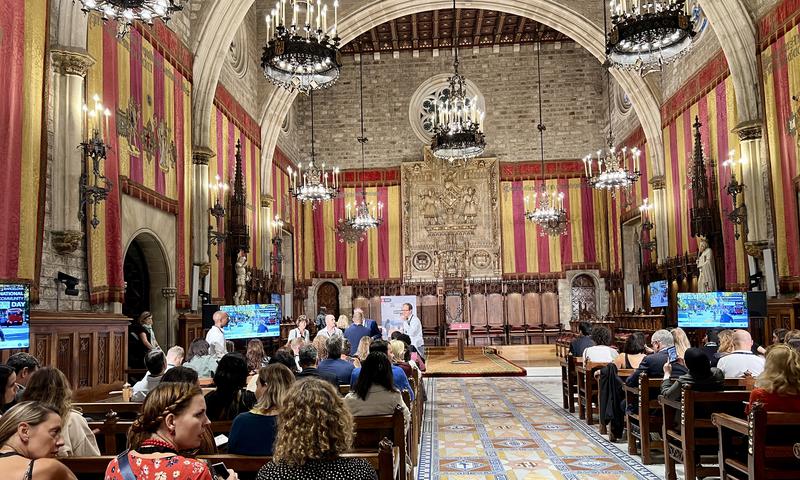 Barcelona's annual get-together of internationals is taking place on October 22 in the city's Maritime Museum. The event is an opportunity to "fast track to the different possibilities that the city offers," Pau Solanilla, commissioner for the city promotion, told Catalan News on Wednesday, during the presentation of the initiative.
The Barcelona International Community Day aims to bring people from all over the world together to offer them networking opportunities or helpful guidance if they are new to the city. The day will feature around 80 activities and 80 exhibiting companies and entities offering services to help internationals navigate life in the city better, including Catalan News.
"Last year we were able to do the International Community Day physically and it was a big success," Solanilla said.
The importance of the day is that "it makes it possible to bring together the most qualitative part of the international community in the city," the commissioner added.
"I would say International Community Day is a fast track, it's a fast landing into the city, and also it's a networking place. So, it's a place where you can meet people and get to know new friends very fast," Pau Solanilla said.
After the pandemic, the event comes stronger than ever by organizing a closing party with cocktails open to all attendees at the museum's Àgora hall. While this party will be taking place indoors, in the garden of the Maritime museum, there will be a 'Made in the USA' concert so people will be able to enjoy one last dance on Saturday night.
Quiz organized by Catalan News
The day will feature a reception, meeting and networking spaces, and an exhibition hall. Among the activities scheduled are workshops, conferences, and even a quiz organized by Catalan News.
Attendees will be able to learn about where to school their children, relocation agencies, learn Catalan or Spanish languages, and even "how to establish, how to deal with paperwork, administrations and other subjects, so it's a nice overview," Solanilla said.
The event is completely free, but anybody attending must register here in advance. It's expected that around 4,000 attendees will come to the event from 86 different nationalities.
"The International Community Day brings is a place to make visible how plural, open, and diverse the city of Barcelona is," Pau Solanilla said to this media outlet.
"We could grow, but I think people would like to keep this format because everybody enjoys it as the space we have in the Maritime Museum is limited," the commissioner added.
Most of the activities organized are in English and touch on various topics of interest such as finding one's feet upon arrival, working and doing business, networking, and enjoying Barcelona.
Six people based in Barcelona will share their experiences of moving to the city and setting up new lives in Catalonia. There will also be entertainment, live music, and children's activities, plus a big closing party – a new feature for this year's edition.
The Barcelona International Community Day is a public-private initiative promoted by the city council, with input from Banc Sabadell, Eres Relocation Services, MAPFRE, and Page Personnel.
The event, completely free of charge, starts at 10am on Saturday, October 22, in the Maritime Museum (Museu Marítim) of Barcelona. Register here to attend.