World's best master chocolatier creates Easter cake replica of his title-winning elephant
Limited number of 1.5kg chocolate figurines will be available at El Carme pastry shop in Vic at €75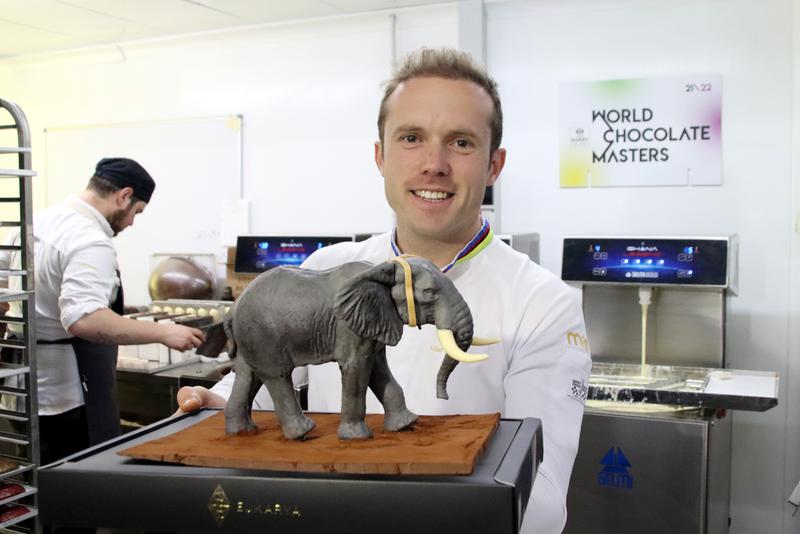 Last November, Lluc Crusellas was named the world's best master chocolatier at the prestigious World Chocolate Masters competition in Paris. His grand creation that saw him take the title for the next three years was a three-meter tall elephant made of 200kg of chocolate.
That sculpture, inspired by nature and environmental awareness, will this spring be available in miniature replica form as 'Mones de Pasqua' Easter cakes. "It's the little memory of the contest that people can have at home this Easter," Crusellas told the Catalan News Agency (ACN.)
A limited number of the chocolate figurines will be available and will be made with dark chocolate and milk, will weigh 1.5kg and stand 30 cm high. The elephant will only be found at the El Carme pastry shop from Saturday in Vic and will cost €75.
Crusellas received the award for an elephant "so big, but at the same time very simple," as he wants to revindicate the idea behind "the simplicity of the big things."
"I believe this is the idea of facing life, doing big things but simply and effectively," he told ACN.
While the chocolate figurine Crusellas used to impress the world was a half-normal elephant and a half-robotized elephant, the 'Mona de Pasqua' will be just a regular elephant.
"We are happy with our work, as it represents our identity." Thanks to this new proposal, "everyone will be able to take home the feeling of the competition to become the world's best master chocolatier," he said before explaining that everyone will be able to enjoy the chocolate, including those who prefer a bitter taste and those who do not, it has an exquisite taste."
Chocolate for everyone
"I do not know anyone who does not enjoy chocolate or that he tastes it and feels sad," Crusellas told ACN. "It is an ingredient that drives happiness and pleasure, and we do not have to say no," always, however, having a moderate consumption.
"All excesses are bad, including chocolate. But I believe it is more important to have an active life, doing sport, but having the opportunity to have some ingredients with a little more chocolate or fat."
"If you are sedentary and eat chocolate, which is the problem? The chocolate or the sedentary life?" he wonders.