Three Kings arrive in Catalonia with face masks and limited parades
'Future will be much better than past, no doubts,' says Melchior in Barcelona, as kids flocked to streets across country despite Covid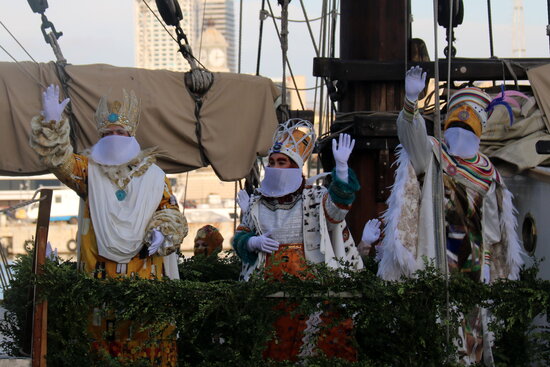 The undoubtedly most magical night of the year for Catalan children is here and the first big moment, the parades to celebrate the arrival of the Three Kings full of presents could be held despite Covid-19.
After an exhausting journey from the east, Their Majesties did not miss their annual visit but offered a very unique image: they were all wearing face masks, as established by the Catalan government.
Gaspar, Melchior, and Balthasar did not forget their customary ornate crowns and regal robes but were more cautious than other years given the current pandemic situation.
Yet, this did not deter thousands and thousands of kids across Catalonia from welcoming them in the countless parades they led.
All those attending over the age of 6 were obliged to wear face masks, while they were recommended for children aged 3 to 5.
The health authorities had also urged parade participants and attendees to keep as much distance from other people as possible and to avoid chanting or shouting.
The events honoring the three men that brought gold, frankincense, myrrh to Jesus 2022 years ago to celebrate his birth were limited compared to pre-pandemic times for health and safety reasons.
Throwing sweets
The tradition of the three kings throwing sweets to children did not go ahead in some places, including Barcelona, with authorities wanting to avoid children crowding together and lowering their face masks.
The Barcelona parade featured some 800 participants – 500 fewer than a normal year – but for the first time had explanations in sign language. Members of the public were not able to attend the arrival of the three kings in Barcelona by sea, but the event was televised.
Upon arrival in the Catalan capital's port, Melchior addressed the children in the city: "The future will be much better than the past, no doubts."
The city mayor, Ada Colau, thanked the kids for following the Covid guidelines and "for their big capacity of solidarity, thinking of those who are suffering the most."
New routes and static shows
Not all municipalities have opted to bring back parades this year. In Santa Coloma de Farners, the three wise men greeted children from one fixed position, similar to last year.
Children needed to book an appointment to visit the three kings in Sant Sadurní d'Anoia, where the council has again opted for a static event rather than a procession.
Local councils have also in some cases opted to amend the usual route taken by the procession in order to avoid overcrowding, including in Amposta and Manresa.
In El Vendrell, children who are self-isolating have already been able to get their wish lists to the three kings via WhatsApp video calls instead of hand-delivering their letters.
But whether standing still or on the move, the important thing is that the kings arrived safely in Catalonia after their long journey from the east, magically bringing gifts for children to open on January 6 when they wake up.