Q&A: what does Catalonia's flower industry look like?
Roses ruling the roost, online commerce competition and Girona floral influence all explained by Florists' Guild president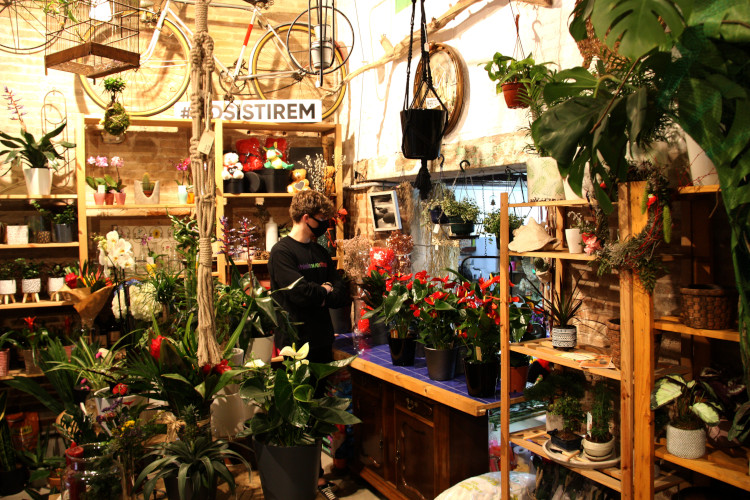 "March winds and April showers / Make way for sweet May flowers". While the opening lines of the famous Ruth Etting song may not be entirely true for Catalonia in the first two months of spring, May is certainly the month of flowers, with the sun shining and the Girona Temps de Flors flower festival in full bloom. This gives florists the opportunity to showcase themselves with impressive displays, in the hope of gaining some recognition. Have a listen to our recent podcast on Temps de Flors and the flower industry.
To find out more about the current state of Catalonia's flower industry, Catalan News spoke to the president of the Catalonia Florists' Guild, Joan Guillén.
What sort of flowers are grown in Catalonia?
Catalonia has a Mediterranean climate that used to grow roses, carnations, cut flowers, but right now we barely grow anything. What we do grow more than anything else is outdoor plants, both small and large. Then, Catalonia exports these to the rest of Europe, such as France and Germany.
Where in Catalonia are flowers grown?
The main area where flowers are produced are in the Maresme coastal area and also around Lleida, in the west. It doesn't differ that much from one place to another. In general, big, Mediterranean plants are produced a lot around Lleida, whereas the softer ones, hydrangeas, begonias, balsams and petunias to name a few, are grown more on the coast. In the Pyrenees there is not much at all being grown.
What are the most popular flowers for consumers?
The most popular and best-known flower is the rose. We have Sant Jordi, and the rose is the queen of flowers that is used in Catalonia, even if they do all come from Central America or The Netherlands. In the past, carnations, lilies and daisies used to be used a lot, and slowly, thanks to the quality of our florists, other types of flowers have since been introduced, like peonies and other varieties like anemones.
How important is Girona Temps de Flors for the industry?
Temps de Flors is the biggest floral art event in Catalonia and the rest of Spain. There are displays all over the heart of Girona, where some of the biggest works have a huge impact. It's definitely a major melting pot, attracting people from Catalonia, Spain and the south of France, where floral and plant compositions are valued more highly than in Barcelona. It makes sense to hold it in spring, because after all, half of all the flowers sold over the course of the year are sold between April and June.
How has the pandemic affected the flower industry?
In 2020 neither Sant Jordi nor Temps de Flors took place. Normally 6-7 million roses are sold for Sant Jordi, but in 2020 it was only 700k, and all at home. Some florists have had to close, some exhibitions have not gone ahead, florists have not recovered. However, it has meant that we have had to modernize, not so that people only go into the shops, but also for online sales. Before, 35% of florists had websites for customers to purchases flowers, which has rison to 85% as a result of the pandemic.
Have there been any positive effects of the pandemic?
Actually, yes. One of the things the pandemic has done is make us take better care of our homes. Decorating it with more flowers and plants as a symbol of well-being.