Panellets cakes survive inflation and remain top seller for eve of All Saints' Day
250,000 kg of marzipan desserts to be sold to celebrate La Castanyada on October 31, despite a 3% price increase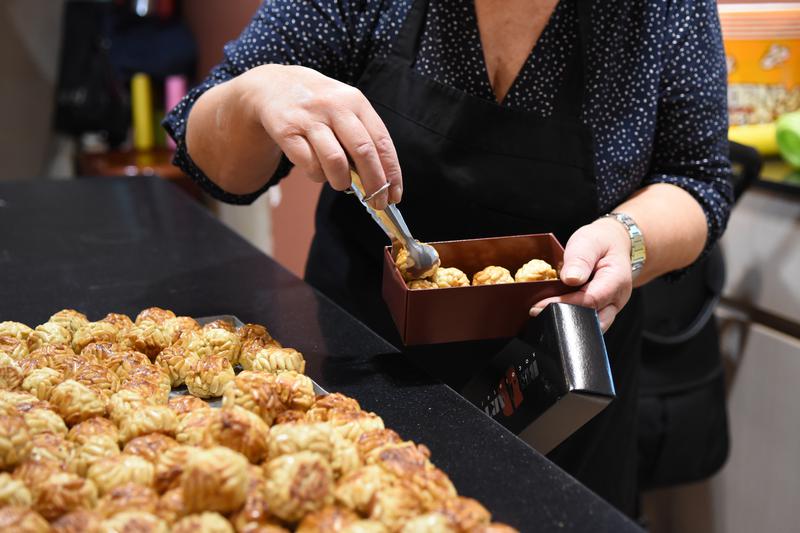 Panellets are poised to remain the top seller in Catalan households on Monday night, the eve of All Saints' Day, when La Castanyada is celebrated.
These small, usually round marzipan cakes are on average 3% pricier than usual, according to the Pastry Guild of Barcelona's president, Antoni Bellart.
Yet, inflation will not prevent the tradition from going ahead again this year: 250,000 kg of the desserts will be sold in patisseries and bakeries, a similar figure to that of 2021 and the last pre-pandemic years.
Panellets are one of the most iconic elements of La Castanyada, a holiday which falls on October 31, the same day as Halloween.
The centuries-old tradition traces its roots back to when people would huddle beside the fire to eat seasonal foods, including chestnuts and sweet potatoes, as well as panellets, the night before paying their respects to their ancestors in cemeteries on November 1.
Bellart told the Catalan News Agency (ACN) that professionals' profit margin is smaller this year, since they are "making a big effort" to avoid increasing prices significantly, although the cost of eggs and butter is skyrocketing.
€60 per kg, but should cost €80
"We are making a big sacrifice, trying to cope more than ever," said Bellart, who explained that electricity bills have surged from an average of €2,000 to between €4,200 and €4,800.
The typical La Castanyada cakes cost on average €60 per kg, but they should cost €80, according to the guild.
Panellets wrapped in pine nuts are set to be the star of the night, as usual – they account for three in four sales of the treats.
Almond, coconut and chocolate also remain popular, and newer trends, such as flambé marzipan and chestnut, are also on the rise, according to the guild.
Despite the price, consumers want to continue the tradition again this year.
"Prices are always a bit higher than what one expects, but this is a fact, things get more expensive and never cheaper," Josep Antoni, a customer at La Vienesa in Mataró, said to ACN, before buying three trays of panellets.
The owners of this patisserie admit some people have bought a smaller quantity this year, due to the higher prices, which could have even surged more if the cost of pine nuts had not slightly dropped.
Home-made panellets
Others make their own panellets at home – it is time-consuming, but pretty straight-forward: it is all about blending almond powder, sugar, lemon zest, and eggs, kneading it all, and leaving it to rest in the fridge for at least 12 hours.
When this process is finished, the dough needs to be cut in small balls of less than 20 grams, and pine nuts mixed with egg have to be stuck to each of them before the whole thing is baked for no more than 5 minutes.
Sílvia Sala told ACN in Mataró that "it was already a tradition to make them at home, but now with young children at home it is even better because it is a way for them to learn the tradition.
And, indeed, the tradition needs being passed on to the next generation, who are increasingly more tempted by Halloween, which takes place on the same night and is gaining ground in Catalonia.
Podcast on La Castanyada v Halloween
To learn more about the 'clash' between La Castanyada and Halloween, have a listen to our Filling the Sink podcast, which was published in October 2020.