Over 220,000 daily bicycle trips in Barcelona
Figures show 11% increase compared to previous year, ahead of new constructions to extend cycling lanes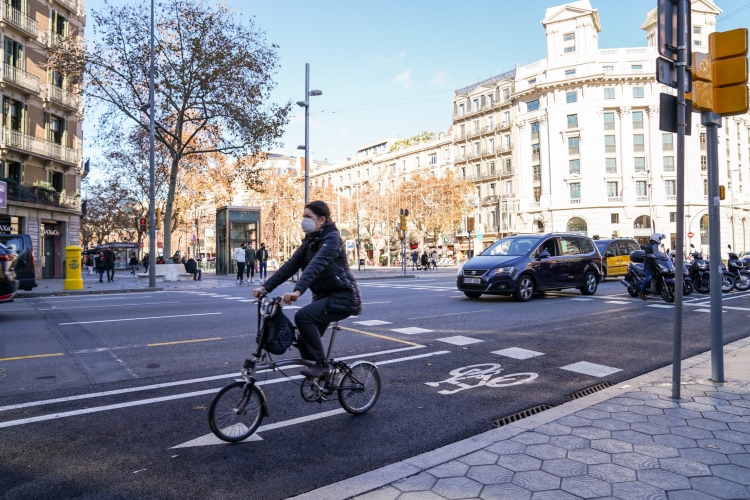 Cycling or taking an e-scooter to work, school, or social encounters continues to trend in Barcelona, as during 2022, over 220,000 daily bicycle trips were made. These figures represent an 11% increase compared to the previous year, as announced by the city council on Sunday in a press release.
In 2022, the city continued working on new cycling lanes, adding 7.32 km more to the existing network. These new kilometers registered 24,000 daily trips.
This year, the city council expects to add five more cycling lanes and continue with the construction of four others, expected to be finished in the upcoming months.
Works will start this month on Mallorca street, between Clot and Cartagena streets. This lane will be located on the 'sea' side, closest to the sea, or the left lane in the direction of traffic.
Independència street will also see a new cycling lane between Meridiana avenue and Sant Antoni Maria Claret street. It will be a one-direction-only lane.
It will be Gran Via de les Corts Catalanes boulevard, where the already existing lane will be revamped into one that will be safer for riders. These works will happen between Espanya and Cerdà squares.
A new lane will also be built for e-scooters and bicycles on Maragall-Rosselló-Freser boulevard. Authorities will build two new roads, one per way.
This year, Arc de Triomf and Urquinaona square will be fully connected by cycling lanes, as officials will build a new road on Sant Pere boulevard between Girona and Roger de Llúria streets.
Barcelona by bike
With over 230km of dedicated lanes, over 100 of which have been built in the last six years, cycling in Barcelona is already a popular means of getting about.
This means that over 90% of the city's population lives within 300m of a cycle lane, which tend to be located on the pavement, on the road, or completely segregated.
However, with just 2% of commutes currently being done on two wheels, it is still behind walking, public transport and private vehicles in this respect.