Music, food, and friends: not a festival but the Gran Recapte food drive
Banc dels Aliments food bank organizes initiative with hundreds of volunteers classifying donations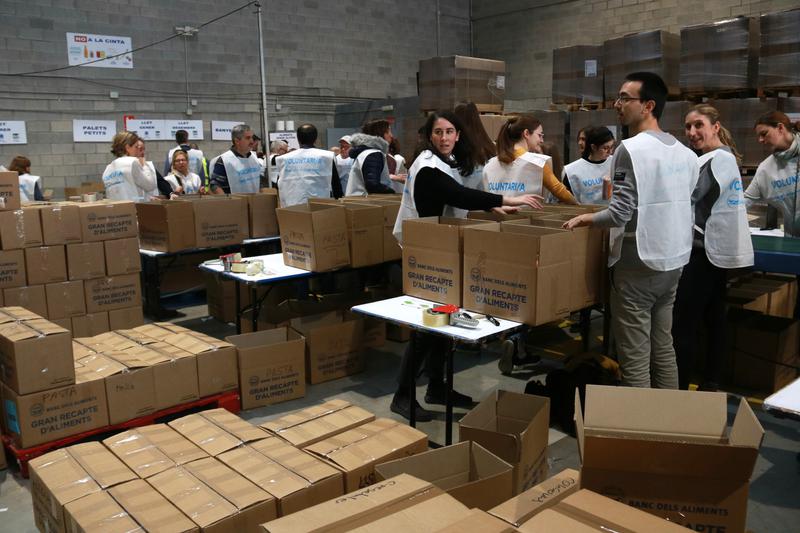 Enjoying music by Rosalía, C.Tangana, and Coldplay with your friends alongside several tonnes of food sounds like a fantastic music festival, but this is far from the case. This is the classification part of the annual Gran Recapte food drive organized by the Banc dels Aliments food bank for a weekend in November and the first days of December.
People purchase non-perishable food items at supermarkets that go into big boxes with other products, including pasta, cereal, milk, oil… These are then sent to warehouses across Catalonia, where volunteers sort donated food for those in need.
One of the warehouses is located in Barcelona's Zona Franca industrial area, and just by being there, you get the feeling you are a part of a significant cause.
The place is a constant buzz of boxes full of food moving around with the large 'banyeres' (containers), as the organizers call them, being carried by electric pallet jacks to two conveyor belts surrounded by dozens of volunteers.
Organizers expect to classify thousands of smaller boxes with different types of food until December 9.
While the Gran Recapte food drive takes place on November 25 and 26, the classification process starts on the 26 and lasts around two weeks. They also take monetary donations until December 25.
"In this warehouse, volunteers from various entities and companies classify all the products received," Josep Maria Duran, a volunteer at the Banc dels Aliments offices, told Catalan News during a two-minute break.
Once everything is classified, "we can help people in need," he added.
This 14th edition of the annual Gran Recapte food drive has been marked for its return to normality after Covid-19.
For the last two years, the pandemic forced the food bank to accept only monetary donations instead of food items. But this year, food products are back on the menu, and with this, volunteers can once again come to help sort the items.
"This is the second time I have come to sort the food," Laura, one of the volunteers, said. "The first time, I came with my teenage sons, so they could see what people in need require. Every time I come, people are very energetic and supportive. It's a party for us, and this is proof of Catalonia's solidarity."
Age is not a factor when it comes to volunteering, and it's pretty evident by the generational diversity in this warehouse where they are organizing food from Barcelona and neighboring areas.
To cope with all the boxes that continue to arrive, Banc dels Aliments allocates four-hour slots that require 170 volunteers each to unpack and classify the products. Some of these volunteers see it as an opportunity rather than a waste of time.
"I have come here to help out because, having it so close by, I want to help out those who do not have as much as I do," Ariadna, a volunteer in her mid-twenties, said to this media outlet.
She was there because of a team-building activity promoted by the company where she works and where several employees have gotten together to help out.
With her is Sara, also there for the first time, after hearing "from many colleagues who had been here and they spoke very well about it."
"I wanted to be part of it, and instead of spending a Saturday doing nothing, at least it's doing something that has some value," she told Catalan News.
The Gran Recapte food drive helps over 150,000 people with thousands of kilograms of donated food items.
All the food will stock the food bank for the first three months of 2023. However, it only covers around 50% of what people really need.