Egyptian pharaoh Tutankamon returns to life in immersive experience in Barcelona
IDEAL Digital Arts Center explores Ancient Egypt and Valley of the Kings in 1922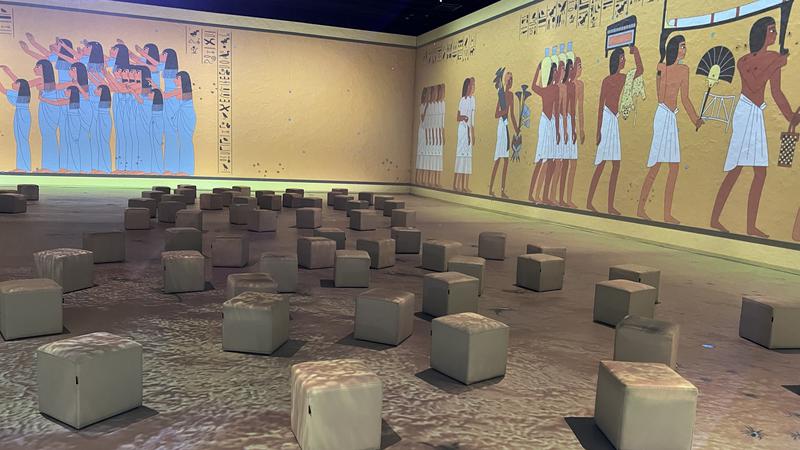 One of the most famous ancient Egyptian pharaohs, Tutankamon, returns to life in a new and unique immersive, virtual reality, and metaverse experience in Barcelona.
The exhibit is part of the new proposal by the Catalan capital's IDEAL Digital Arts Center and focuses on the mythology, culture, and daily life of ancient Egypt.
'Tutankamon, the immersive experience' opened on Friday and travels back 3,400 years, as it shows temples, treasures, and secrets of ancient Egypt through the eyes of the young king.
"Tutankamon is the main character of the exhibition," Jordi Sellas, IDEAL director, said to the Catalan News Agency (ACN). In fact, spectators will hear Tutankamon's voice, as Catalan musician Triquell voiced the young king.
For the first time, the exhibition will also include a metaverse room, added to the immersive audiovisual experience, which is well-known for its previous shows, such as one focused on Catalan painter Salvador Dalí or a pianist's brain waves painted 360-degree projections in a Dalí-inspired concert.
"The metaverse room is an area where you can enter into a virtual and digital world, which is synchronized with those that accompany you during the visit. Therefore, you can all discover, walk through Tutankamon's tomb, through archaeologist Howard Carter's campsite in the Valley of the Kings in 1922, and see how it was and even touch his gramophone. It's like magic," Sellas said.
The show arrives on the 100th anniversary of archaeologist Howard Carter's first access to the pharaoh's tomb, which, even though it was discovered on November 4, 1922, was not until February 6, 1923 when the first people entered the chambers.
This is the biggest digital exhibition in the world ever focused on ancient Egypt.