Cocina Hermanos Torres celebrates Michelin stars but will keep striving for excellence
Customers, staff, and distinguished chefs enjoyed impromptu celebrations at the restaurant following the gala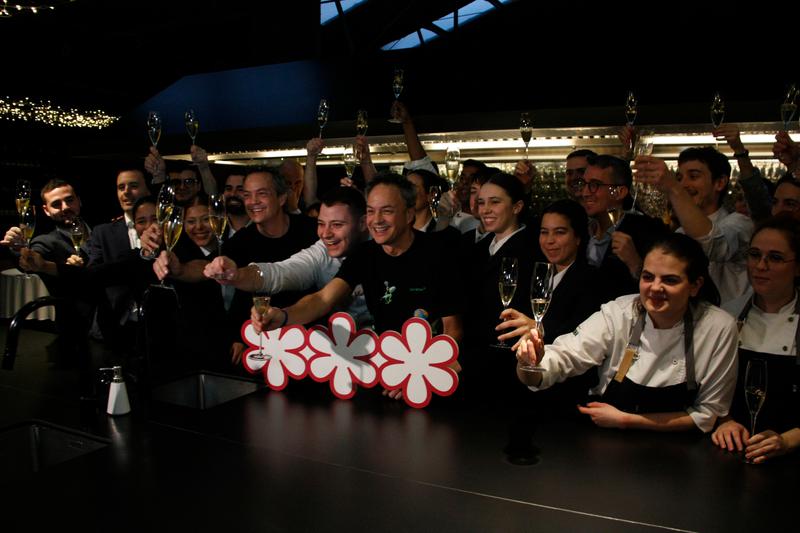 Cocina Hermanos Torres has been in celebration mode this week after becoming the fourth restaurant in Catalonia to be lauded with three Michelin stars.
The fine dining experience led by brothers Sergio and Javier Torres in Barcelona's Les Corts district opened only four years ago, and after Tuesday evening's ceremony, joins the select list of three-starred restaurants that also features ABaC and Lasarte, both also in Barcelona, and Girona's Celler de Can Roca.
On Wednesday, the moment arrived to celebrate the news. Customers of the restaurant took part in an impromptu party with staff members and the managers in the late afternoon, with the distinguished chefs joined by their families.
The brothers arrived around 5 pm with all the restaurant workers waiting for them with confetti, applause, and many glasses of cava.
The Torres pair took advantage of the evening to thank the entire team for their commitment and to encourage them to continue to strive for gastronomic excellence. During the speech, they insisted that having won a new star is a collective merit of the entire restaurant.
"They are three stars, but we don't stop here. We have a long way to go. We have always said that the restaurant is at 70% of its potential right now," they explained to the Catalan News Agency. "We have a long way to go to make it grow, especially for customers."
They say that in the hours and days since receiving the award, their phones have not stopped buzzing. "People are happy about good things, a little optimism is very good in these times," Sergio added.