Cava starts to become the sparkling wine of choice in Europe with record levels of exports
150 million bottles of Catalan Cava were exported last year. It is a historic record for Cava producers with Germany and the United Kingdom being the main importers. The Catalan sparkling wine has the perception of being inexpensive in these countries, which has worked to the Cava producers' advantage at a time of economic crisis as demand for alternatives increases. Wine connoisseurs put high quality Cava on the same level as Champagne, yet many consumers still associate the Catalan drink with a cheap product. High quality Cava is starting to be discovered and has strong potential to grow in these markets.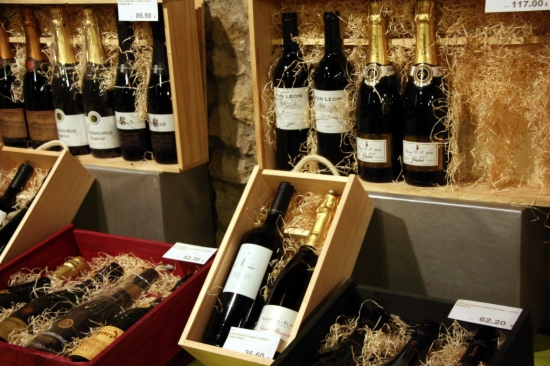 Barcelona (ACN).- The popularity of Cava has significantly increased in the past decade in European markets. According to statistics from the Cava Regulatory Board, the production of Catalan Cava for foreign exportation has increased from around 100 million bottles in 2001 to over 150 million bottles in 2011, a 50% increase over a ten year period. The perception of Cava as a "cheap alternative to champagne" has been difficult for Catalan producers of higher quality Cava to overcome. European consumers are still reluctant to pay more for the higher quality versions of the Catalan sparkling wine produced using the 'Méthode Champenoise'. However, being a non-expansive product compared to Champagne is also an advantage in times of economic crisis. Nonetheless, many wine connoisseurs state that higher quality Cava is on the same level as Champagne, and better priced. Beth Willards, from the UK wine retailer, Laithwaites, told ACN that "higher end producers [of Cava] can compete with Champagne in terms of elegance and quality. The problem is the ability to sell these wines in a market dominated by big cheaper brands". Yet 2011 was a record for foreign exports with a 2.07% increase over 2010. In 2011 the three main importers of Cava were Germany, the United Kingdom, and Belgium.
The European sparkling wine market has changed in recent years with an increasing tendency for Cava to be the consumer's sparkling wine of choice. According to statistics from the Cava Regulatory Board, over 150 million bottles were exported in 2011, a 50% increase over ten years. However the success of high quality brands of this Catalan sparkling wine has been hindered by long-established and frequent comparisons to Champagne.
Champagne has always been marketed as a luxury product and for the most part holds a monopoly in the sparkling wine market as the symbol of celebration and opulence. The inclination to refer to Champagne as the genuine product and to other sparkling wines such as Cava and Prosecco as cheap alternatives or imitations is principally down to the countries' marketing strategies and in reality is less to do with quality, both Cava and Champagne are made using the same 'Méthode Champenoise' and have their own characteristics.
Consumers tend to be very familiar with the lowest quality and cheapest ranges of Cava, which are those often compared to expensive Champagne. However, wine connoisseurs state that a comparison of higher quality ranges of Cava with Champagne is a fairer comparison and it's been shown that a preference of one over the other can be simply a matter of taste. In fact, some wine connoisseurs have recently stated they prefer premium Cava over Champagne, as being less buttery but more refreshing.
However, at a time of economic crisis Cava's image has been beneficial, achieving a historic record for foreign exports in 2011 (with a 2.07% increase over 2010) according to the Cava Regulatory Board. The top three importers are Germany, the United Kingdom, and Belgium.
For example in the United Kingdom, which the Cava Regulatory Board reports imported 32 million 75cl units of Cava last year, the increase in Cava's popularity can be attributed to a number of factors, the economic crisis, changing attitudes towards the drink and an adjustment in marketing by supermarkets.
Beth Willard from one of the United Kingdom's most popular wine retailers, Laithwaites, told ACN that "The Cava market in the UK is dominated by a couple of big brands which can meet the lower key price points. Consumers are familiar with these wines, and the prices, so therefore the general consumer perception of Cava is a cheap alternative to Champagne". Cava has benefited from the economic crisis in this way as consumers seek less expensive alternatives. Supermarkets have reacted to this development, for example the discount chain Aldi, stated that "We introduced Cava into our range in November 2011 in the UK" and that Cava sales "have seen a growth of 49%" in the last few months.
Cava esthablished its market niche in Europe as a cheap alternative to Champagne years ago
Historically, Catalonia had pushed Cava as a cheap alternative to Champagne to find their market niche, normally exporting the lowest quality Cava, which was produced in large quantities. European supermarkets reacted accordingly by selling it as a cut-price sparkling wine. However Willard believes that, "the real strength of Cava production is the higher end producers who can compete with Champagne in terms of elegance and quality. The problem is the ability to sell these wines in a market dominated by big cheaper brands". Although higher quality Cava is difficult to sell in an established sparkling wine market, there is a consumer base for good quality Cava in the UK. The upmarket chain of supermarkets Waitrose told ACN that "Cava is increasingly popular with our shoppers and we now stock more Cava than ever before".
The image of less expensive Cava is moving towards a drink in its own right, and its lower pricing compared to Champagne means that it has been successful in foreign markets. However this pricing also means it is challenge for producers of premium quality Cava is to overcome the outdated image of Cava being exclusively a cheap product and the general bias towards Champagne. While Catalan producers have succeeded in establishing themselves abroad and are enjoying an increase in popularity in countries such as the United Kingdom, it generally remains a cheap and cheerful product that has not begun to permeate the lucrative luxury market that is so fiercely defended by Champagne, despite wine critics putting them both at a similar level when fairly compared.