Catalan hotspots named among the world's top 10 Pride festival hosts
Sitges and Barcelona came 9th and 10th in annual Pride Index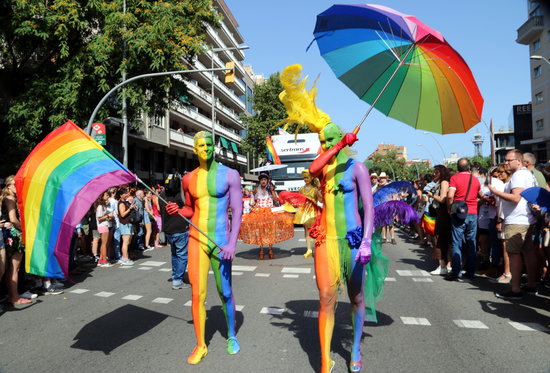 Gay Pride Sitges and Pride Barcelona have been recognized among the top 10 LGBT+ festivals in the world for the first time by an annual Pride Index.
The Catalan celebrations of the rights, acceptance, achievements and pride of LGBT+ people – which take place every year in urban locations around the world – came 9th and 10th respectively in the 2019 ranking by holiday rental website HomeToGo.
Sitges – the Mediterranean resort marking a decade of its Pride festival with the latest edition starting on Saturday – was the highest-rated town on the table, with Brazilian city São Paulo awarded the top prize ahead of Mexico City and Madrid.
Barcelona – whose Pride festival is on June 28 and 29 and is a candidate to host the continent-wide EuroPride in 2022 – was the third most popular city in Spain among the judges and the fifth in Europe, also trailing fashion hotspots Paris and Milan.
Hundreds of destinations
The Pride Index assessed hundreds of destinations according to LGBT+ nightlife, travel connections, LGBT+ friendly laws, cost of accommodation, and year-on-year growth of the festival, with Sitges scoring particularly well in the last category.
"We are excited to discover strong year-on-year growth in destinations like Sitges and Barcelona during their Pride celebrations. More and more travelers are choosing to take part and making a holiday out of it," said Joanna Booth from the Pride Index.
"Sitges and Barcelona Pride are undoubtedly among the world's best and we hope this ranking will inspire more travelers to join the parade this year."