Booksellers postpone traditional Sant Jordi's Day celebrations
Health crisis impacts Catalonia's annual celebration of books and romance on April 23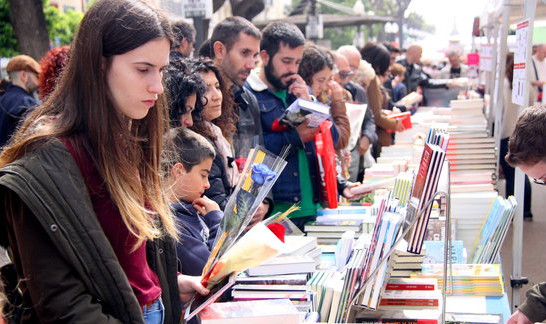 One of the most important days of the year in Catalonia is April 23, Sant Jordi's Day, when the feast day of the country's patron saint is combined with a collective celebration of reading and romance.
Sant Jordi is one of the country's most popular dates, and one of its most unique, in which couples exchange books and roses, while crowds fill the streets to enjoy the bright, spring weather.
However this year, the coronavirus crisis has had an unfortunate impact on the feast day that coincides with World Book Day, with Catalonia's booksellers' association deciding to postpone their traditional celebrations.
Book sector needs "plan B"
In a statement on Tuesday, the association said were postponing their book signings and street stalls to a date still to be decided, but planned to take place before the summer holidays.
Earlier in the day the association's president, Maria Carme Ferrer, had said that the situation was "increasingly worse" regarding Sant Jordi, and she added that booksellers were meeting to discuss "a plan B."
Apart from the large crowds of people buying roses and strolling in the sun, Sant Jordi sees booksellers setting up stalls and authors signing books, a scenario that would have been impossible in the current conditions.
April 23 celebrations adapted
In the event that the health authorities have already lifted the ban on the closure of bookstores on Sant Jordi's Day, the book sector hopes to celebrate April 23 "resized" and "adapted" to the circumstances.
In the meantime, Ferrer said booksellers are "very worried" about surviving the current crisis, and she called on the authorities to provide financial help to the sector, such as deferring certain tax payments.
"The administration has to help us go on because we are the weakest link in the book chain and most of us have to pay rent, daily bills, and staff, while some of us are self-employed," she added.
Florists ready to sell roses
Meanwhile, the other sector essential to the celebration, florists, sell some 7 million roses on April 23, and see this crisis differently.
On Wednesday, they said they see no point in suspending the celebration now and added the postponement "has not been agreed" between themselves and booksellers.
Indeed, florists are determined to open and sell roses as usual on April 23 if the measures forcing the closure of shops is already lifted.