Barcelona's world-famous unofficial skate park faces controversial nighttime curfew
The sleek curves in front of the Macba art museum have been a skating landmark for a quarter of a century but are now under threat from Barcelona City Hall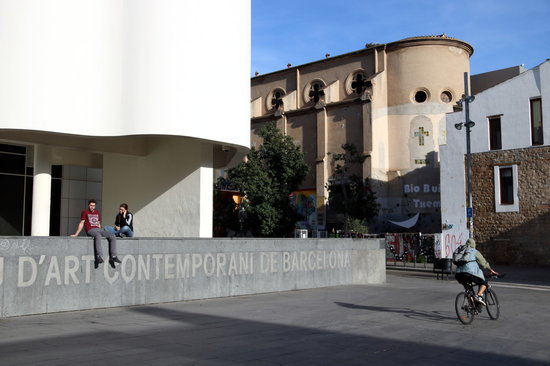 It is the most famous skateboarding site in Barcelona, attracting hundreds of skaters of all ages and origins every day. Some have even described it as a world-famous 'Mecca' of their sport.
Now, though, skater boys and girls at Plaça dels Àngels, in front of the Barcelona Museum of Contemporary Art (Macba) in El Raval, have their days –or at least their nights– numbered.
Barcelona City Hall has taken the decision to ban the activity at the square and its surrounding streets between 10pm and 7am, seven days a week.
Perfect spot
The smooth frontage of the modernist museum, with its super-long ledge, have made it a perfect spot for skaters, despite the large number of bystanders, attracting an eclectic mix of friction-defying tourists and locals who frequent the unofficial skate park on an almost nightly basis.
Measure to combat "noise pollution"
However, the local council believes a nighttime ban is necessary in order to combat "noise pollution" and to ensure that skaters do not deter clients from the nearby bars and restaurants, citing the need to "improve communal living" in the area.
Hipster neighborhood
Those familiar with the diverse, hipster part of town also speculate that the ruling could be linked to a broader desire to protect residents from an influx of late-night visitors to the neighborhood.
Fines for skaters who fail to respect the ban will range from 300 to 900 euros, but not before an information campaign designed to make sure that they are aware of the new regulations.
The skating curfew has received provisional approval from the local government. There will now be a consultation period of about two months, after which final approval can be given.