Negreira case Q&A: FC Barcelona referee payments scandal explained
What are the allegations, what does the club say and what could the fallout be?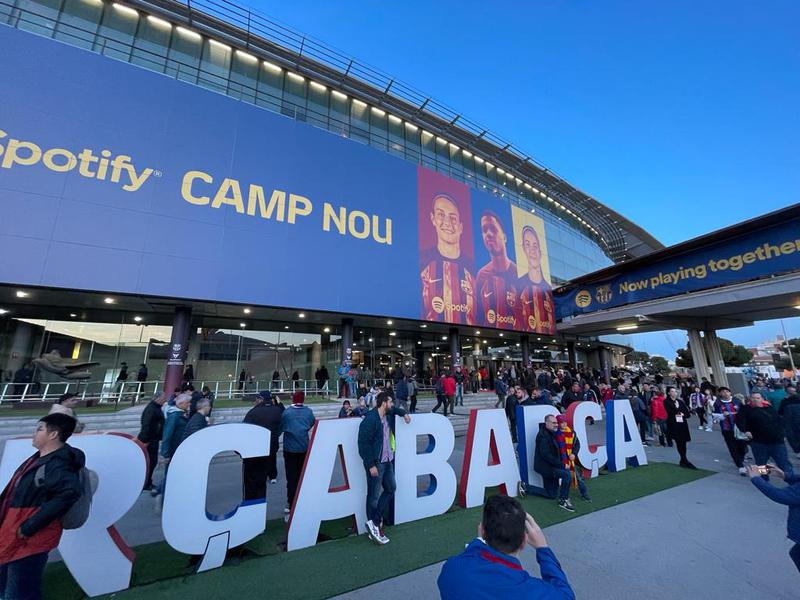 FC Barcelona may be riding high at the top of La Liga, on course to win their 27th league title and first since 2019, but off the pitch things are not looking so rosy.
On top of their well-documented financial troubles, the club has become engulfed in a scandal over payments to a refereeing official, which is being investigated by the Spanish courts and separately by European football governing body UEFA.
But what is the Negreira case all about, and could Barça be banned from playing in the Champions League?
Read on to get up to speed on the allegations, the club's response and what the fallout could be.
Who or what is Negreira?
The Negreira case or Negreira affair is named after José María Enríquez Negreira, a former referees official in Spain. He was vice president of the Technical Committee of Referees (CTA) between 1994-2018.
And FC Barcelona paid him?
Yes, this we know for sure. On February 15, the radio program 'Què T'hi Jugues' on the Cadena Ser network broadcast the first report on the Negreira case. They initially revealed that in May 2022, Spain's tax office began investigating payments of €1.7 million from Barça to a company owned by Negreira, Dasnil 95, between 2016 and 2018. It later came to light that Barça paid over €7 million to companies associated with the referees official between 2001 and 2018.
FC Barcelona released a statement the same day acknowledging payments for external services, such as reports on the referees taking charge of their upcoming fixtures, and bemoaning the fact that the news was leaked at a time when the team were doing well in the league.
Ok, so Barça said the payments are legitimate, but the courts have got involved?
Yes. On March 10, prosecutors accused FC Barcelona, Negreira, two former Barça presidents, Sandro Rosell and Josep Maria Bartomeu, and two former Barça directors, Òscar Grau and Albert Soler, of corruption.
The letter submitted to court accused Barça of having "reached and maintained a strictly confidential verbal agreement with the accused Negreira, so that, in his capacity as vice president of the CTA and in exchange for money, he would carry out actions tending to favor FCB in the decision-making of the referees in matches that the club played, and thus in the results of competitions."
Specifically, investigators are examining the alleged irregular nature of the payments of €1.4 million by FC Barcelona to Negreira between 2016 and 2018.
The charges laid are continuous corruption between individuals in sports, continuous fraudulent administration, and continuous forgery of commercial documents.
Dating back to 2001, the payments span the presidencies of Joan Gaspart (2000-2003), Joan Laporta in his first stint (2003-2010), Sandro Rosell (2010-2014) and Josep Maria Bartomeu (2014-2020).
Gaspart and Laporta are not among those accused because of the length of time that has passed.
I've heard Negreira's son is also involved?
That's right. Negreira's son Javier Enríquez was the one who carried out the job of compiling the technical reports, mainly written reports, but some video ones too.
Most of the payments were to Dasnil 95, owned by Negreira, while lesser amounts were paid to Nisdal 95, also owned by Negreira, and Soccercam, owned by Negreira' son, Enríquez.
It is also worth noting that the payments did not come directly from the club but via three companies: Tresep 2014 SL, Radamanto and Best Norton.
The first of these was owned by former Barcelona board director Josep Contreras, who died around Christmas time. It is claimed the other two companies were also owned and managed by him.
Has Negreira himself said anything?
In his own testimony to the tax authorities, Negreira said that the payments were to ensure that Barcelona games were officiated by "neutral" referees and to ensure that "decisions were not made against" the Catalan club.
Several media outlets have reported that Negreira's lawyer has submitted a medical report to the authorities stating that he has been diagnosed with early-onset Alzheimer's.
And what about Barcelona, how have they responded to the allegations?
In an explosive and much-anticipated press conference, club president Joan Laporta came out fighting.
He fervently denied the club had cheated: "Barça has never carried out any action with the objective or the intention of altering competitions or obtaining any competitive advantage."
He attacked the media's portrayal of the case: "This public lynching without trial that Barcelona is undergoing is unacceptable. They are playing with the good name of our club, the good name of the referees, and the credibility of football."
And he claimed Barcelona could, in fact, be the victim in all of this. Presumably referring to Contreras, Laporta said: "An outside party may have taken advantage of this situation to do something irregular to profit for themselves ... If this is the case, we view FC Barcelona as the victim in this situation.
And why was everyone talking about Real Madrid and Franco after the press conference?
Well, Laporta took aim against Barça's eternal rivals, calling them the "regime club." He said that for 70 years, the referees' technical committee has been presided over by former members, players, or directors of Real Madrid. "They have always been favored by referees," he said, dubbing their involvement as an "exercise in cynicism without precedent."
Real Madrid have put themselves forward as private prosecutors in the case, claiming they have been damaged by Barcelona's actions.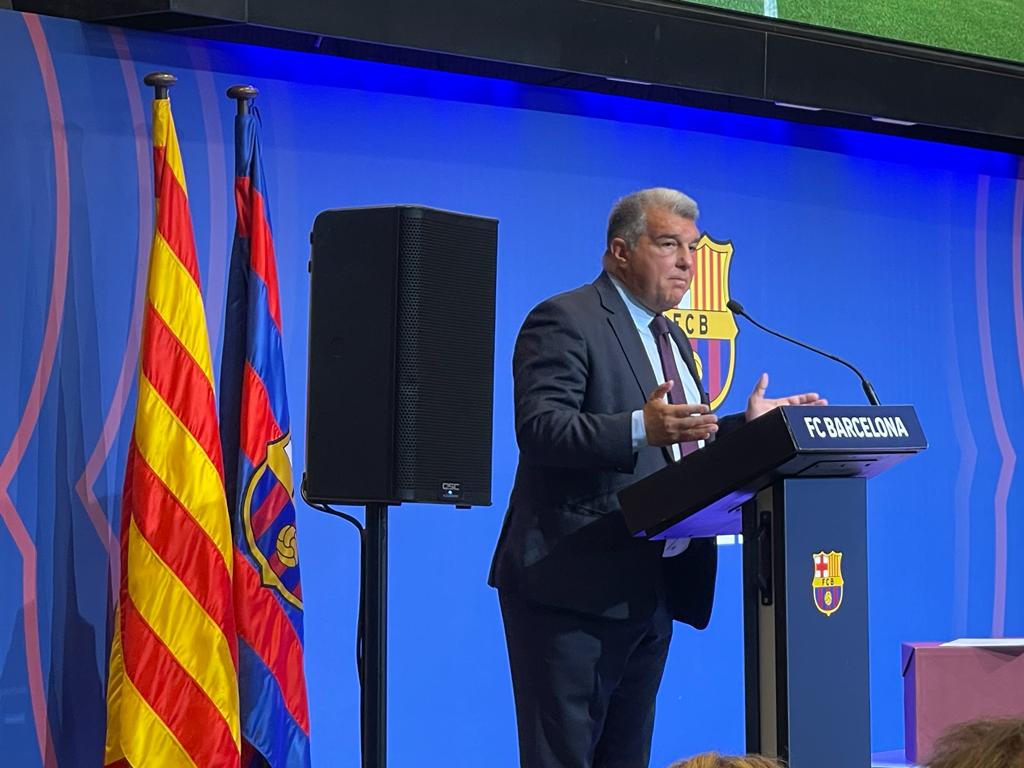 And their social media team have also been busy. They put together a video after Laporta's comments, claiming Barcelona and fascist dictator Francisco Franco enjoyed a mutually positive relationship, which sparked outrage in Catalonia.
In reality, Catalan culture, identity and language was oppressed during Franco's rule, and institutions like FC Barcelona were forced to comply with the regime.
OK, I get it, back to Negreira then, is it true that Barcelona could be thrown out of the Champions League?
UEFA have opened their own investigation, separate from the legal proceedings in Spain, and they have the power to punish Barcelona as they see fit, based on their own findings. Penalties could include a ban from European competition but there's no indication at this point that that may happen, and if such a decision was made, Barcelona would certainly appeal it and bring it to the Court of Arbitration for Sport.
UEFA president, Aleksander Čeferin, said the case could be considered "one of the most serious matters in football since I have been involved in the industry."
As Čeferin pointed out, "at the level of the Spanish league, the matter has expired and cannot have competitive consequences, even though judicial proceedings are ongoing," however, "nothing is time-barred at UEFA."
In other words, Barça will certainly not be stripped of any domestic titles, although their European trophies could come under threat.
What happens next?
The big question! Well, in general, investigations into alleged corruption can take a long time, there is no set timetable. At some point investigators will decide that either – there isn't enough evidence to take matters to trial and the whole Negreira case will gradually fizzle out, or – there is enough evidence to bring a case.
If a trial does come to fruition, it could put FC Barcelona in the dock over the payments to Negreira, but it could also look at the scenario Laporta suggested regarding kickbacks with the club as the victim.
And, what do the fans, the culers, make of it all?
They are mainly hoping to wrap up their first league title under club legend Xavi. The ones we spoke to largely dismissed the Neigreira case as "lies", but some said the payments were "questionable."
One fan, Jordi, was certain that it was a conspiracy against the Catalan side: "They want to harm Barça when we're doing well, and that's all it is."
But Eimear, in Barcelona on Erasmus, wondered: "Where did the money go? We don't know."