'Havaneres' by the sea, a music genre with history
Neus Mar, one few female 'havanera' soloists performing traditional music of 'Indians'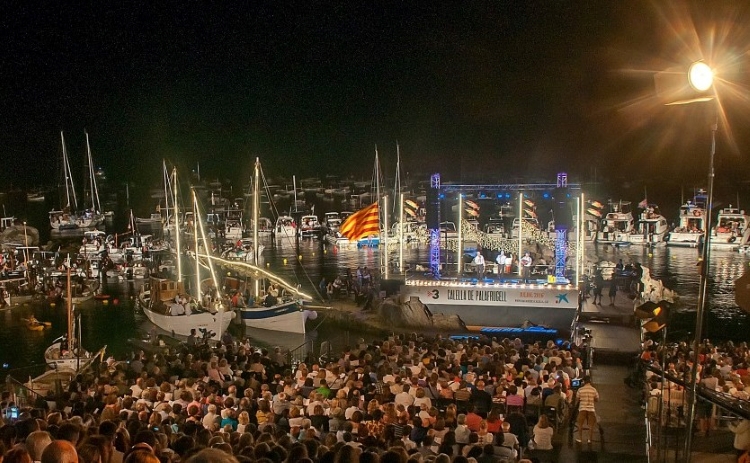 'Havaneres' are a traditional music genre in Spain dating back to the 19th century. At the time, hundreds of so-called 'Indians' traveled to the Spanish overseas colonies of Puerto Rico and Cuba.
These 'Indians' sailed to what they called the West Indies or the Americas to do business, bringing the contradance with them. Once it reached Caribbean shores, it merged with local music of indigenous and African origin.
"Originally, 'havaneres' weren't sung, but danced. They were very popular in Havana's salons, especially with the nobility," Jordi Turró, from the Ernest Morató foundation in the northern town of Palafrugell, said to Catalan News. The foundation focuses on researching and promoting this music genre.
"Havaneres were popular as they were catchy and very popular songs, especially among the economic and social elites in Cuba," Turró explained.
'Havaneres' arrived in Spain, and therefore Catalonia, via the Spanish lyric-dramatic genre, Zarzuela, but also via 'plecs i canyes', a kind of newspaper that was sold in towns by blind people. Once heard in the theatre, residents kept singing them in taverns, bars, and at home.
Topics varied but the vast majority of songs are about women, the sea, and fishermen - and the vast majority are sung by men.
"One of the reasons women didn't use to sing 'havaneres' is because women, in the Calella de Palafrugell beach and nearby towns, were not very welcome in taverns. It was the social and cultural mentality of the time," Neus Mar, one of the few female 'havaneres' soloists, said in an interview with Catalan News on the beach.
If you want to hear Neus Mar performing an 'havanera', press play below to listen to the Filling the Sink podcast episode on 'Indians' and 'Havaneres'.
"I wouldn't have ever considered singing 'havaneres' because there are few female singers or none at all, especially when it comes to soloists. But it was fate so I went for it," she explained.
"I started singing 'havaneres' because it's a genre that I've heard since I was a kid. At home, we had plenty of cassettes and my parents took me to listen to Port Bo and Peix Fregit, the two main 'havanera' groups at the time," Mar recalled.
Calella de Palafrugell's 'Cantada d'Havaneres'
The Calella de Palafrugell beach, in the Costa Brava, becomes a stage in early July. Every year since 1966, the town hosts one of the most important 'havaneres' performances in Catalonia with hundreds of attendees that is broadcast live on television.
"I believe the 'Cantada d'Havaneres de Calella' has gained importance over the years. When it started it was a very simple activity that was transmitted organically, and it is its enthusiasm that has made it one of the most important 'cantades' in Catalonia," Neus Mar said.
She is getting ready to perform for the fourth time on July 2. She sings in Catalan, and the song she sang for Catalan News named 'Mariner de Terra Endins' by Mestre Josep Bastons is in this language. Bastons is one of the founders of the Peix Fregit 'Havaneres' group. In fact, the 2022 Cantada will honor his legacy.
But 'Havaneres' actually used to sung be in Spanish.
"When tourism became commonplace in Catalonia in the 1960s, the 'Havanera' became a tourist attraction," Jordi Turró, from the Ernest Morató foundation, explained.
It was then that some singers started performing in the Catalan language, while some experts complained because the pure 'Havanera' was supposed to be sung in Spanish, the language spoken in Spain's Caribbean colonies.