Barcelona opens bathing season with one shower per beach due to drought
This year features 20% more space for dogs, smoking still prohibited, and sports will be regulated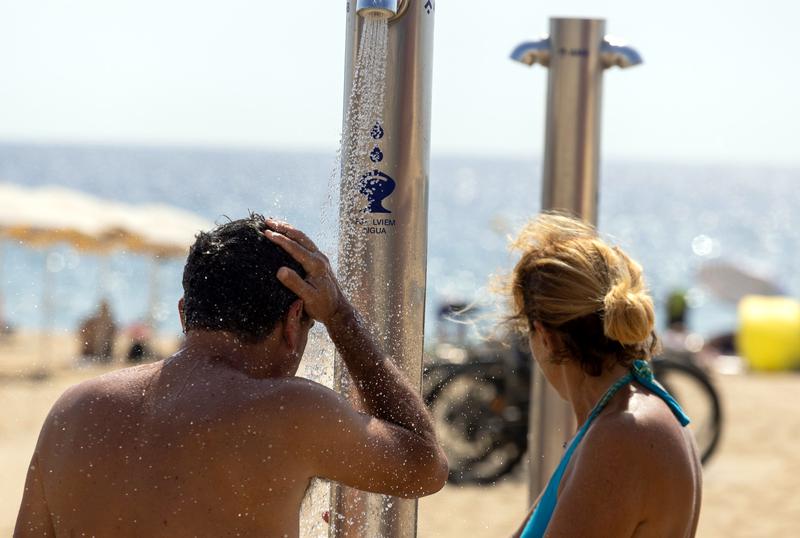 The sunbathing season has started in Barcelona, and the regular services that accompany it are beginning to be activated.
Due to the ongoing drought gripping Catalonia, the shower services on beaches in the city have been reduced. Normally, the beaches have dozens have showers in operation during the hot months to let the many hundreds of visitors cool off under. This year, however, only one shower per beach will be running on each of the city's nine beaches.
Authorities have decided to limit the number of showers because of the ongoing state of exceptionality declared because of the drought, as reservoir levels stand at only 26% of their total capacity as of April 8.
The public toilets will also be open again in their set hours: 10.30 am to 6 pm in the 'mid' season, and until 8 pm in the 'high' season, which will last from May 27 to September 17. Thanks to the tourist tax, two toilets have been renovated, one of which is for people with functional diversity.
The rescue and first aid service will have a maximum of 60 rescuers placed across 21 watchtowers.
It's also expected that 14 'xiringuito' beach bars will open on the sands of the city. This year, reusable glasses will be used again in all the bars.
The assisted bathing service, currently being processed, will start as soon as possible, with a deadline of opening before the beginning of the high season.
Since last summer, the city's beaches have been smoke-free beaches, a regulation definitively approved last year. This ban is based on the protection of the environment and the right of citizens to enjoy a clean public space, free of smoke and cigarette butts, and the protection of people's health, particularly the most vulnerable.
This year, the practice of sports on the beaches will be regulated in a new way, which has the aim of guaranteeing the coexistence of all beach users.
Certain areas have been enabled for the practice of free sports without time limitations and others have set timetables for when sports can be played, with schedules depending on the beach season.
In the mid-season, free sports activities have been limited to designated areas on the beaches of Sant Miquel, Somorrostro, Nova Icària, and Bogatell, which have been signposted with a sign, pole, and rope.
At the northern end of the Llevant beach, the most northerly beach in the city, will again be reserved for dogs. This area was launched in 2016 and is separated from the rest of the beach with a fence.
Dogs will have 20% more space, going from 1,250 m2 to 1,500 m2, with capacity for 120 dogs, offering more comfort for users. In the 2022 summer season, a total of 13,728 dogs visited the area, of which approximately 70% came from the city of Barcelona.