All you need to know before going skiing in Catalonia's Pyrenees
Ten alpine resorts with 466 km of ski runs, some as close as a 2-hour drive from Barcelona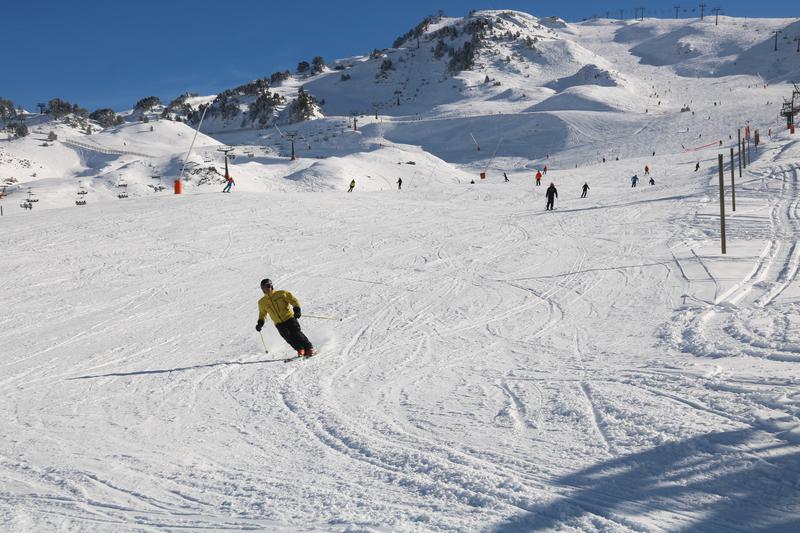 Catalonia is well known for its beaches and the good weather in the summer, but it also has 466 km of ski runs across ten alpine resorts. Some are as close as a two-hour drive from Barcelona, while the furthest is four hours away.
Overall, there are more ski resorts in the Catalan Pyrenees than in any other region in Spain. In ten of them, skiers can do alpine or downhill skiing; in six more, nordic skiing, or cross-country skiing, is also an option.
While most ski resorts are publicly owned, three are owned by a foundation or companies.
10 stations, all levels
From the highest Pyrenean peaks to the Mediterranean, the different ski resorts in Catalonia are made for all kinds of levels of expertise, from the most professional skiers to newbies.
They all share the ski trail difficulty ratings, so it is easy to spot which ski run you are skiing on. Green is for beginners, blue for intermediate skiers, red for advanced skiers, and black for experts.
Baqueira Beret
Baqueira Beret is the biggest ski resort in Spain, and even one of the most known, to the extent that the Spanish royal family used to ski there every year.
It has 165 kilometers of slopes and 36 lifts across 4,700 acres and over six peaks. For those wondering, it has lots of blue and red runs, making it a great place for intermediate skiers.
The ski resort is 300 kilometers away from Barcelona, around a four-hour drive.
Adult tickets cost €59 per day and €1,150 per season.
Boí Taüll
Located in the Vall de Boí valley, Boí Taüll, this ski resort has the highest skiable slopes in the Catalan Pyrenees, as the Cap de les Raspes Roies is 2,747.3 meters above sea level.
This publicly-owned station has 43 different slopes, 14 black, and 20 red, which is great for experts and advanced skiers. It even has a ski lift that reaches 2,751 meters.
The place is close to Catalonia's Aigüestortes i Estany de Sant Maurici national park. The Lonely Planet travel guide recently named Boí Taüll one of Europe's best affordable ski resorts.
Adult tickets cost €42 per day and €525 per season.
Espot Esquí
To the east of the Aigüestortes i Estany de Sant Maurici national park, Espot Esquí has 22 trails, the vast majority of which are blue or red.
This is a smaller ski resort compared to the previous ones as it has 25 kilometers of slopes and is around a three and a half hour drive from Barcelona.
Adult tickets cost €36 per day and €495 per season.
La Molina
Considered the Pre-Pyrenees, La Molina is the oldest ski resort in Catalonia. It is celebrating the 80th anniversary of the first ski lift built in Spain this year.
La Molina has 67 different slopes, 20 green ones, 18 blue, 22 red, and seven black, which make it a very good place for all kinds of levels.
To get to La Molina, drivers would take approximately two hours from Barcelona, but there are also trains and buses from the Catalan capital. Even some people can find one-day trips to this ski station.
Adult tickets cost €47 per day and €660 per season.
Masella
Also, in the Catalan Pre-Pyrenees, and very close to La Molina, Masella has 72 different slopes. Across its 70 kilometers of slopes, people can enjoy up to 18 different lifts day and night.
Masella is well known for its night skiing options, and just two hours away from Barcelona by car, it is also a very easily accessible ski resort to go to for one day.
Those with a skiing ticket for Masella can also ski in La Molina, as both sites offer the Alp 2500 combined ticket.
Adult tickets cost €49 per day and €736 per season.
Port Ainé
Port Ainé is a very good ski resort for families, beginners, or snowboarders.
It offers 26 slopes with 12 red ones, four blue and black ones, and six greens. Located in Pallars Sobirà county, Port Ainé is a three-hour-a-half drive from Barcelona.
Adult tickets cost €38 per day and €495 per season.
Port del Comte
Port del Comte is the closest ski resort to Barcelona, only 150 km away, around a two-hour drive. This place is also in the Catalan Pre-Pyrenees, so its natural snow is not always a given, which is why they have 256 snow cannons on site.
There are 36 slopes: 13 red, 12 blue, eight green, and six black.
Adult tickets cost €42 per day and €660 per season.
Tavascan
One of the smallest ski resorts in the Pyrenees, Tavascan, allows for both nordic and alpine skiing. It is very family orientated as the area is very peaceful.
It is just 20 minutes from the village with the same name, Tavascan, and a 3-and-a-half- to four-hour drive from Barcelona.
Seven slops are available for all levels, two for beginners, advanced skiers, and experts, and one for intermediate-level skiers.
Adult tickets cost €22 per day and €199 per season.
Vall de Núria
Some skiers are also nature lovers, and Vall de Núria ski resort in the Núria valley is the place to enjoy it all.
3 and a half hours away from Barcelona, this ski resort is ideal for beginners with its three green, blue, and red slopes and 11 different ski runs, and two black ones.
One of the particularities of this place is that the last 12.5 kilometers are made by a rack railway up the valley, as the incline is more than 1,000 meters.
Adult tickets cost €36 per day and €403 per season.
Vallter 2000
The closest ski resort to the Mediterranean is Vallter 2000, but do not be fooled: the closest beach to the ski resort is a two-hour drive.
The tagline for the place is "Mediterranean Snow," but at a 2,000-meter altitude, as the ski resort's name suggests.
There are 16 slopes: three green ones, four blue, six red, and three black.
Adult tickets cost €31 per day and €403 per season.
Types of snow in Catalan ski resorts
Skiers always talk about the types of snow before starting their day on the slopes. Catalan ski resorts have natural snow but also artificial snow.
Powder: The best, freshly fallen snow waiting for the first person to ski down it.
Crud: Uneven, slippery, and lumpy. This is what powder snow turns into after many people ski on it, and it cannot be considered great fun.
Crust: When the top layer of the powder snow melts and refreezes again, which can make for a tricky ride.
Slush: When the snow is wet and has melted, this is more common towards the end of the season.
Ice: is the snow that has melted and frozen again several times, which could be considered tricky as it is not the best snow for skiing.
How to get to these stations
The fastest way to get to these ski resorts is by car; however, some also have buses taking skiers to their final destination.
La Molina, for example, has ski-train and ski-bus options to combine the R3 Rodalíes commuter train with a shuttle bus and a bus from Barcelona to La Molina directly, something which La Masella also offers.
Buses, for those who do not drive, are also available in Port Ainé, Espot, and Boí Taüll.
When to ski in the Catalan Pyrenees
All ski resorts tend to start their season during the last weeks of November and early December, depending on the snow.
Normally, the season will last until early April in some cases, which coincides with the Easter holidays. For those who prefer to ski over Christmas or just before the festivities, December 6 and 8 are two very important busy bank holidays, as well as Christmas day, New Year, and Reis or the Three Kings day on January 6.
How much does it cost to ski in the Catalan Pyrenees?
Prices vary depending on the ski resort, but tickets can go up to €1,150 per season. However, skiers who do not often practice the sport will also have to add the gear and the equipment, either buying it or renting it, plus the lift tickets and transport to get to and from the resort.
A day trip, including a ski pass for La Molina and Masella, with insurance, ski equipment (but not clothing), a return coach transfer from Barcelona, and the assistance of a guide on a board, costs €103. And that means leaving at 6:30 am and returning at 6:30 pm.
All ski resorts have deals for senior citizens and children, as well as discounts for big families.