Writer and journalist Josep Maria Espinàs lies in state at Catalan government headquarters
President Aragonès: "Many in our country and beyond mourn the death of one of our literary greats"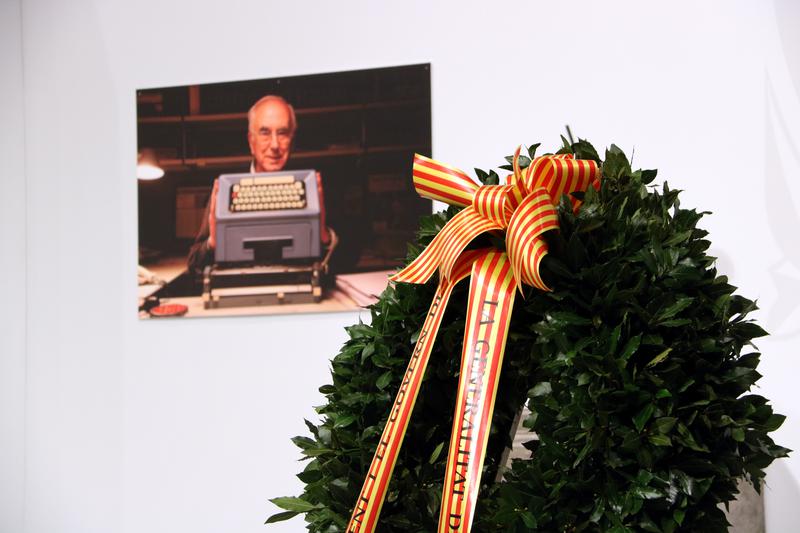 The public can now pay tribute to beloved writer and journalist Josep Maria Espinàs, who died on Sunday at age 95, as he lies in state at the Catalan government headquarters' Saló Sant Jordi hall on Tuesday from 10:30 am to 7 pm.
His casket was placed there on Tuesday morning to the sound of 'Pensée des morts' by French singer-songwriter Georges Brassens, one of his favorite musicians, and lies beside a photograph of him with his typewriter as well as a Catalan flag and roses.
There are also various dictionaries, books that he wrote, five of his pipes, a bust of his head made by Sagrada Família sculptor Josep Maria Subirachs, and an FC Barcelona shirt gifted to him from the club.
Catalan president Pere Aragonès, who said some words beside his casket on Tuesday morning, declared that "many in our country and beyond mourn the death of one of our literary greats."
"The government that awarded him the Gold Medal many years ago is honored today to be hosting this vigil and to accompany his family and friends," he said, adding that Espinàs "was loved dearly across Catalonia."
Espinàs literary canon
Some of the biggest tributes came from the literary world. Èric del Arco, of Catalonia's booksellers guild, proposed that now could be the right time to put together a Josep Maria Espinàs literary canon, a selection of some of his greatest works to help newcomers get more easily familiar with the legendary writer.
Del Arco made these statements while visiting the open casket at the Catalan government headquarters building. "As a work of the country, it would be a gift that we would all give ourselves."
Del Arco said that when a figure such as Espinàs passes away, booksellers try to pay tribute to the deceased writer and want to bring their books to the shelves. In the case of Epinàs, Del Arco added, some works are found, but Espinàs had such an extensive body of work with his journalistic books that it is difficult to find everything.
"There must be an 'Espinàs canon' that makes all those who have never read him be able to do so," he remarked.
Who was Josep Maria Espinàs?
Born in Barcelona in 1927, Espinàs studied law at the University of Barcelona (UB) before going on to become a reference point in Catalan literature.
His creative genius was evident at a young age after he won the Joanot Martorell prize – known nowadays as the Sant Jordi prize – for his novel 'Com ganivets o flames' ('Like Knives or Flames') at the age of 26.
Among the many other plaudits he received throughout his career include a Creu de Sant Jordi (Saint Jordi's Cross) in 1983, one of the highest civil distinctions in Catalonia, the Medal of Honor of the Parliament of Catalonia in 2007, and the Gold Medal of the Catalan government in 2015.
Some of his most celebrated works include 'Combat de nit' ('Night fight'), 'El teu nom és Olga' ('Your Name is Olga'), 'El meu ofici' ('My Office), 'Viatge al Pirineu de Lleida' (Journey to the Pyrenees of Lleida'), and 'A peu' ('On foot').
Espinàs was also one of the promoters of the 'Nova Cançó' ('New Song') artistic movement which celebrated traditional Catalan culture and the Catalan language during the Franco dictatorship. Espinàs was one of the founders of the group Els Setze Jutges ('The Sixteen Judges') who were fundamental in the rise and success of this new genre.
His musical legacy lives on every game at Barça's Camp Nou stadium, as he, along with Jaume Picas, penned the football club's anthem, 'Cant del Barça'. The song was written in 1974 to celebrate the club's 75th anniversary.
In an interview with the Catalan News Agency in 2018, he said that he believed the Catalan language is currently in a "much better" place than it was during his youth. "In 1940 and 1950 I would have wanted to have this Catalonia," he said, since Catalan was forbidden in public use at the time under dictator Francisco Franco.