Ukrainian and Catalan culture to light up Barcelona's La Mercè festivities
Free concerts across 16 stages and 300 street performances from September 22 to 25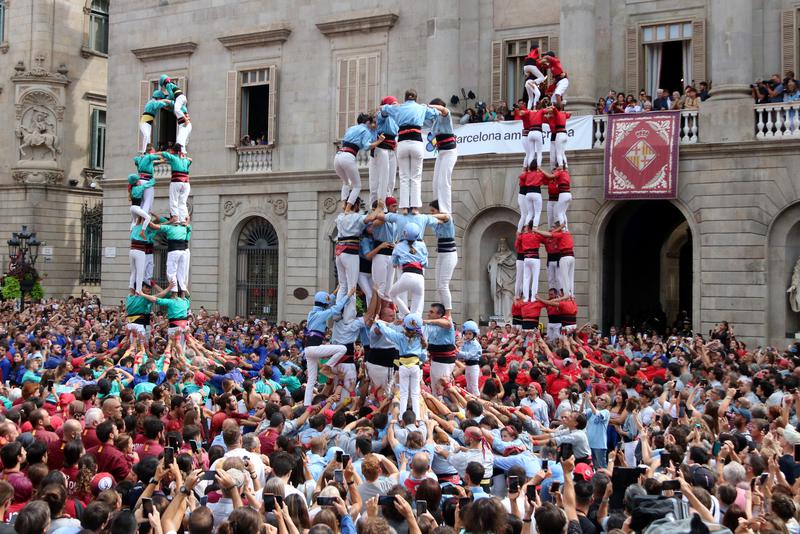 Music, fireworks, a drone show, and celebrations of Catalan and Ukrainian culture all feature in this year's La Mercè celebrations, from September 22 to 25 in Barcelona.
The program for the Catalan capital's festa major was revealed on Tuesday, with concerts across 16 stages, and more than 300 performances as part of the festival's MAC (Mercè Street Arts) thread.
Traditional Ukrainian dance, a fireworks display with music by Sónar and, for the first time, a drone show on Barceloneta beach are just some of the program's highlights.
The Tyets, Els Catarres, Zoo, Triquell, Lildami, Ginestà, Buhos, Mushkaa and Suu are some of the artists set to perform as part of the festival's musical offering.
Local talent from the city's music schools will also be showcased as part of the festival, which is organized by Barcelona City Council and costs €3.1 million.
'A Thousand Voices for Víctor Jara' will combine readings and songs by young Catalan and Chilean artists in a concert to commemorate the 50th anniversary of Pinochet's military coup in Chile.
Kyiv, guest city
Each year, Barcelona invites another city to be its special guest for the La Mercè celebrations. In 2023, that honor falls to the Ukrainian capital, Kyiv.
Artists include folk music quartet DakhaBrakha, producer Maryana Klochko, DJ Daria Kolomiec, composer Poly Chain, and rapper Alyona Alyona.
On Friday, September 22, the mayor of Kyiv, Vitali Klitschko will present his Barcelona counterpart, Jaume Collboni, with a gift of two giant figures that have been made in Catalonia for the occasion, representing Olga of Kyiv and Volodymyr the Great.
Mercè Street Arts
The MAC (Mercè Street Arts) program will offer more than 300 performances of 61 shows, from circus acts to urban dance, street theatre to comedy. The epicenter of the MAC program will be at Parc de l'Estació del Nord, with continuous programming during the day over the bank holiday weekend.
Traditional festivities
As always, traditional Catalan arts and culture form a significant part of the La Mercè program. That of course means correfocs – fire runs! Plus gegants – giants – parading through the streets, sardana dances, havaneres being sung, and the construction of colossal castells – human towers.
A proclamation by the writer Najat el Hachmi will mark the official start of the festa major.
All activities organised by Barcelona City Council and the Barcelona Institute of Culture are free of charge.
More information, including the full La Mercè program, is available on the council's official website.