Tradition, festive atmosphere, and good value: the Fira de l'Avet Christmas tree market
The 41st edition of the holiday fair in Espinelves is underway with decorations and ornaments on offer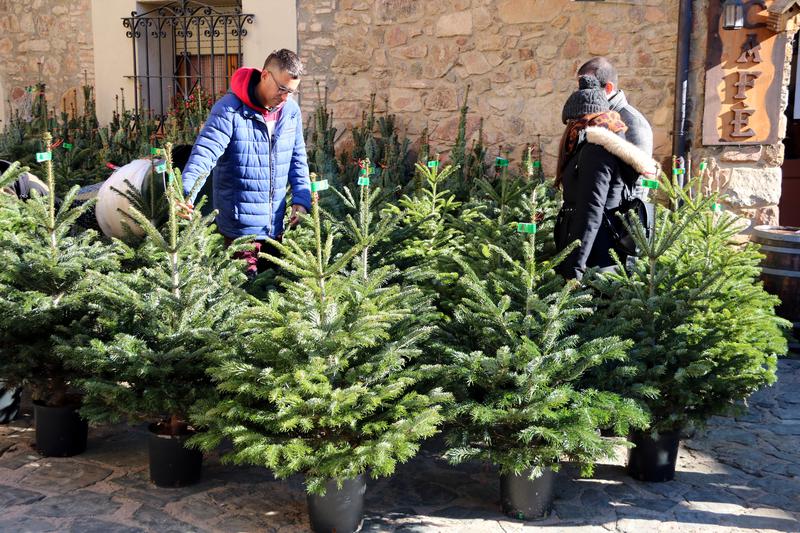 Espinelves, a tiny town in north-central Catalonia just outside Vic with a population that barely reaches above 200, is undoubtedly the best place in all of Catalonia to get a Christmas tree.
Each year in early December, the town's Christmas tree market gets back up and running, selling not only the crown jewel of Christmas decorations but also plenty more trinkets and ornaments to give your home the holiday spirit.
The 41st edition of the fair got underway on Saturday with a large crowd flocking to it on the opening day, with many people excited to take part in the tradition after a couple of years of pandemic-hampered Christmas seasons.
It's expected that around 100,000 people will visit the fair to experience the festive vibes over the course of its nine days open. The coming week features two bank holidays – one on Tuesday and another on Thursday – meaning many people will be able to make the journey from far away to pick up their tree.
Organizers hope to sell around 5,000 Christmas trees, with prices ranging from €10 to €60.
Other activities allow children to get into the festive spirit too, from face painting, archery, a petting zoo of ponies, magic workshops, and a giant 'caga tió' – the traditional Christmas pooping log.
New this year are free workshops on Catalan culture and tradition for children and also several giant outdoor wooden games. There will also be carol singing with eight choirs from Barcelona.
Apart from the ten Christmas tree stalls, the fair also features around a hundred stalls selling different crafts or even food.
Tradition and holiday experience
Visitors to the fair told the Catalan News Agency (ACN) of their excitement at visiting the Fira de l'Avet on its opening day, as it provided the perfect opportunity to begin the Christmas season on a clear Saturday morning.
"For us, coming here is a tradition and quite an experience. Arriving early, the cold, the smell, and the atmosphere", Marc and Helena, Barcelona residents, told ACN. "It's nice to us that the things we buy for Christmas are not from large stores or supermarkets. And real trees look much better," they said.
The couple also see the price point as another advantage. They picked up their mid-size tree for €30, a price they were pleased with. "As well, it helps not to pollute and also helps local businesses, that's why we like it more," they said.
Jordi Geli, a local councilor, made the same point to ACN, arguing that artificial trees "never fall apart, and pollute." He added that "natural trees produce oxygen and eat CO2," before pointing out that once the real tree is thrown out after the holiday period, it is used to make compost.